Today's world is running on the wheels of different technologies where the consumers of these technologies are the main controller. Smart IPTV is indeed an amazing addition to the world of digital entertainment, and the main reason for its popularity is that it is serving the consumers just the way they want.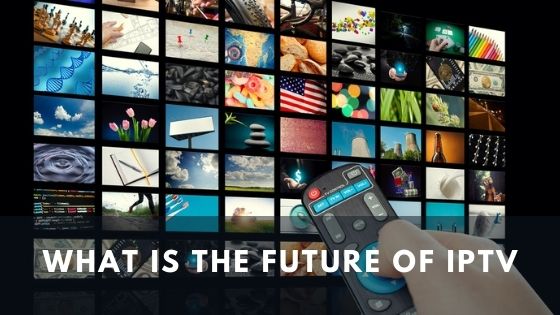 So, what is the future of IPTV? Is it going to change the view of entertainment mediums and streaming platforms, or will the progress be nipped in the bud? You will find out all these things by the end of this article as everything about IPTV services is discussed here with the necessary key points and related issues.
What is an IPTV
Described in a non-complex way, an IPTV is a service through which you can watch cable TV channels and other shows of streaming platforms by using the internet. IPTV stands for Internet Protocol Television which is basically supported by Internet Protocol Networks.
You can use IPTV on any android TV or smart TV at your home. Even if you have a regular cable TV, IPTV can be streamed with the help of a set-top box connected to it. Unlike cable TV, IPTV can deliver a continuous stream of digital content at high speed and non-compromising quality.
It is a streaming media that can cover almost every cable TV channel in addition to other entertainment content and gaming sites. IPTV delivers its service to both corporate and private IP networks providing high-quality streams on various devices, including TV, PC, mobile phones, and tablets.
How Does IPTV Work?
A cable TV receives the channel signals through different mediums like an antenna, optical cable, and satellite dish. But in the case of IPTV, you get the channels directly from the internet. It is better to use a high-speed internet connection of fiber broadband lines that can provide 10 to 100 Mbps. But without having such, you can also use slower broadband lines of 1 to 10 Mbps.
When you set up smart IPTV on any of your devices, you need to create a streaming playlist for adding the channels you want. Because IPTV doesn't come with a default channel list. After selecting a particular channel or show, the process of watching the content is done basically in three steps.
The file remains as a set of digital data before streaming on your device, which needs to be encoded. As a result, it converts into a suitable format for streaming on any device.
It is an encrypted file because IPTV is not available for every person using the internet. As it is a subscription-based platform, people having IPTV subscriptions can only decrypt and receive it from the internet.
The IPTV player installed in the device converts the IPTV signals into the regular TV signal, and thus, you can watch your desired content on the IPTV. All these happen just in a blink of an eye, so you don't have to wait after a click.
Types of IPTV
Generally, you will find three types of IPTV, and every type can be streamed on your PC, smart TV, and mobile phones either within any public or private network range. But mainly, they differ on the working procedure and features.
Related topic: The 15 best IPTV service providers in 2021
Related topic: The 5 cheapest IPTV service providers in 2021
Video on Demand (VOD)
It is like a service provided by streaming platforms where contents are streamed according to the demand of the consumers. The channels don't just stream continuously unless a consumer requests content to watch at the consumers' convenience.
Time-Shifted IPTV
Some TV broadcasters around the world offer time-shifted IPTV services for people who want to enjoy content whenever and wherever they prefer. Basically, it provides recorded content that can be viewed even after several weeks and months.So, the viewers can watch high-quality television shows at their convenient time.
Live TV/IP Simulcasting
In this IPTV service, live television content are streamed through the internet. You can't record the shows or schedule them for another time.
Network Management System
You can use IPTV efficiently both in public and private networks, which is almost impossible for cable TV services. Because cable TVs are not subscription-based and are accessible to the public.
Private networks are easy to handle in IPTV because one can have IPTV service by having a subscription and setting up in a preferable device. But in public networks, it is tough to manage the entire process because the security system must be maintained strictly along with ensuring high-quality performance. In this case,
A hierarchical network is built, and small offices are created to manage the whole network easily by coordinating and storing all the programs.
For security maintenance, the small offices are kept under regional offices, and those are maintained by a central hub for controlling unauthorized entrances and ensuring proper distribution of networks.
Equipment Organization
If you think of setting up the smart IPTV, you will find that basically no equipment is needed without the device in which you want to set it up. Just install an IPTV player, add the URL of your device, and you are ready to create your own playlist and adding channels.
But if you think of a cable TV, it will need several pieces of equipment for setting it up properly. Because even setting an antenna or satellite dish can be a tough job for some users. So, a technician is needed for most people to set up a cable TV with varieties of channels and services.
Nowadays, the world is based on the convenience of every single thing. People like to go for work which is not time-consuming and can be done without any complication. So, IPTV has a huge possibility for expanding its influence over the world as an easy-to-use streaming platform.
External Complications
IPTV provides such a service that is less prone to be affected by external complications. Whether in the case of any physical damage or weather conditions, it tries to maintain the highest quality stream for all situations.
Unfavorable weather might lower the bandwidth a bit but, there will be no major issues while watching IPTV on your TV or PC. IPTV will provide its best service to the viewers without some accidental occurrences like serious malfunctions in the internet connection or any server complications.
On the other hand, cable TVs create a huge boundary while signal processing and receiving in hostile situations. During bad weather conditions, antennas and cables might not work properly and thus result in disruption on the received signal from the satellite.
Besides, cable TV extensions are prone to physical damage that can also negatively impact the quality of television content.
Related topic: The 10 best IPTV Boxes in 2021
Related topic: The 10 best Android Boxes in 2021
Variations and Versatility
Satellite TVs often can't provide all the channels of one's preference because there are limitations depending on service providers, the capacity of the antenna, and area boundaries.
If you want to add all the channels you like, you might have to go to multiple service providers. But in the case of area constraints, nothing can be done for good.
There is no boundary for adding channels in your IPTV playlist, and you don't even have to look for multiple IPTV service providers. As the channels stream directly from the internet, you can choose which channels you want to add without any limitations.
Once you have your subscription, accessing every cable TV channel is possible.
Besides TV channels, you can also watch other shows on different OTT platforms and play games on gaming sites. When you can get all these things in one place, why would you go back to cable TV having no versatility and variations?
Operating Systems and Devices
Whether you are an IOS user or an android user, there is nothing to be worried about watching IPTV on your operating system. Because IPTV provides flexible and high-quality service for different operating systems like android, IOS, and Linux.
Besides, setting up in each operating system is similar to some extent, and you can set it up easily by the given instruction with the package.
For watching IPTV on regular cable TV, you can attach a set-top box with the TV. It receives data from the internet and passes it to the television by decrypting the file. Basically, a set-top box works as a medium between the internet and the TV.
But there are some alternatives to set-top boxes that are smaller in size and portable. Dongle and fire sticks are some of them which you can use with your TV and PC for watching IPTV.
For smart TV/ android TV, mobile phones, and tablets, things are simpler than that as you don't need another medium and can access IPTV directly from the internet. Just download an IPTV player and follow the instructions after opening the app. The process is pretty simple and easy.
Related topic: The 8 best IPTV Apps for Android TV in 2021
Related topic: The 8 best IPTV Apps for Apple TV in 2021
Related topic: The 5 best IPTV Apps for iOS/iPhone in 2021
Related topic: The 7 best IPTV Players for Windows in 2021
Related topic: The 5 best IPTV Player for Linux and Ubuntu in 2021
Can IPTV Be the Future Television?
Some years back, we couldn't even think of any service by which we could enjoy cable TV contents on the internet without any antenna, satellite, or cables. Technology has developed to an unimaginable extent, and we got familiar with the concept of smart IPTV.
The use of IPTV is increasing day by day, and it is getting popular among people of all ages and sectors. Is it going to change the concept of traditional entertainment platforms and replace cable TVs? Before diving into that, let us know some drawbacks of IPTV.
Videos might slow down or buffer while switching between channels, and sometimes, the audio and video might not sync with each other.
There is no EPG (Electronic Program Guide) service on IPTV, and as a result, you have to find the scheduled TV shows without automatic, programmed settings.
 Unfavorable weather issues might affect the IPTV stream occasionally.
These are some issues that are preventing IPTV from presenting its best performance and efficiency. If these issues are resolved in a short period, that day is not far when we will forget about cable TVs and use IPTV as our daily viewed content streaming platform.
Conclusion
If you ask what is the future of IPTV, there will be no exact answer because we can only assume the possibilities. But, the fast-rising popularity of IPTV points to a future full of new opportunities and technological upgrades.
Moreover, these will exist if we ensure proper planning, strategy, management, and maintenance.
Disclaimer: IPTVAdviser.com does not verify the legality or security of any add-ons, apps or services mentioned on this site. Also, we do not promote, host or link to copyright-protected streams. We highly discourage piracy and strictly advise our readers to avoid it at all costs. Any mention of free streaming on our site is purely meant for copyright-free content that is available in the public domain.
Disclosure: IPTVAdviser.com is a reader-supported blog. When you buy a product(Hardware, device, accessories, or VPN, we're not affiliated with any IPTV service or app) through links on our site, we may earn a commission.