Who doesn't like the thought of having freedom in watching favorite shows whenever they want? Well, we all do. But is your traditional cable service satisfying you with desired facilities?
IPTV services are made in such a way so that they can give you the satisfaction and independence you like.
As this service is provided via the Internet, so questions of its legality often appear.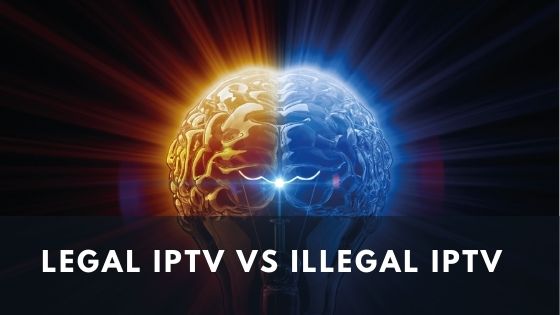 To clear your doubts, keep reading this article on legal IPTV vs illegal IPTV and find all the detailed explanations you need.
This article is purely educational. IPTVAdviser.com doesn't own, host, operate, resell, or distribute any streaming apps, addons, IPTV or services. The page contains some unverified services, and we are not certain whether they hold legal licenses to distribute the content. IPTVAdviser.com does not verify the legality of each app/service in all regions. Do your due diligence if you use any of the unverified apps/services, and stream only content that is available in the public domain. The end-user shall be solely responsible for the media accessed.
What Actually Is IPTV?
IPTV, which refers to Internet Protocol Television, is basically a term for any television service that you get through the web or Internet rather than via your traditional service.
Via IPTV, you don't have to follow a schedule to watch your favorite tv shows. It's an online streaming service that will offer you every television content on-demand.
How Does IPTV Work?
Your traditional TV works by sending analog signals directly to your cables, where you'll only have access to currently broadcasted content. You'll only have options like where and when to view via external recording equipment.
On the other hand, you'll get freedom while using the IPTV service. It has servers to store all the contents, which will give you the freedom to watch as per your will.
You'll have a converted digital format after selecting a program to watch, and that will be delivered in packages to your playback equipment via the Internet Protocol service. After compressing and optimizing, the files will be transferred for online streaming before they reach the user.
But your TV needs to be able to read the signals for all of these to be possible. Unfortunately, many TVs don't have the setup for receiving IPTV signals. They need external help to receive the signal.
Having a TV that isn't IPTV compatible can be a problem, but here's a solution for this problem. You'll need an IPTV box or set-top box to receive the signals.
What Is an IPTV Set-Top Box?
An IPTV set-top box is a tool used to convert the streaming signals received by the Internet Protocol or IP. This tool converts the collected signals into a format that your TV can read and reproduce.
In easier words, it works as a translator which translates the internet protocol language.
HDMI or AV cables work as mediums to connect these boxes with the TV. If you have a newer model, then you can connect it via a Wi-Fi connection.
Using computers to stream IPTV is easier, as you won't need a set-top box to read the received signals.
Legal IPTV vs Illegal IPTV
Even though the IPTV service is online-based, there are rules and regulations to ensure the safety of consumers. Let's show you the differences between Legal IPTV vs Illegal IPTV.
Legal IPTV
Your IPTV is legal as long as it provides the copyright of the program. Having a license to broadcast the show or program proves the legality of an IPTV service provider. To be more specific, here are some other details:
The providers use links given by their partners.
To guarantee the customer's safety, they use a faithful streaming app.
Instead of using too many ads, the providers opt for a subscription-based service.
Most legitimate service providers sell other services, too, like the Internet, telecommunications besides IPTV.
Any provider filling up the mentioned points is most likely to be a legal IPTV service provider.
Illegal IPTV
Most of you always wonder how to identify illegal IPTV. Well, to answer this question, we have pointed out some hints for you. These hints will guide you to recognize illegal IPTV.
They host their service offshore.
The providers don't ask for permission, or they don't even have a license to provide the service of downloading TV content.
They don't use links or mention links of their parents.
Their services are almost free of cost or at a very cheap rate.
Suggestions like you should use VPN will often pop up on your screen.
They'll encourage you to use untraceable paying procedures.
If you notice any of the hints mentioned above, then my dear, you need to be aware. They might be the illegal IPTV service providers. Try to avoid such services.
Examples of Both IPTV Services
Here are some examples of IPTV services for both legal and illegal IPTV.
Legal IPTV
Enjoying the IPTV service depends much on a legitimate, well-known option. fuboTV, XUMO, Philo, Hulu, YouTube TV, Pluto TV, are some of the best legal IPTV services. But there are other well-known services too.
Here are some options for you.
The first big online streaming service which took over the IPTV mainstream is a well-known platform Netflix. Netflix provides a massive number of licensed content and along with its own original movies, TV shows, and documentaries.
Amazon being a legal IPTV server, provides a huge range of licensed content. If you are willing to pay a little extra, you'll have access to additional TV channels containing Statz TV and shudder. You can also add additional TV box sets and movies to your digital library by paying rent or buying them.
Recently Disney has bought their own IPTV service, combining thousands of movies, TV shows, and documentaries. While having its classics, you'll also have content from National Geographic, Fox, Star Wars, and much more.
This IPTV platform will give you access to stream the HBO originals, and alongside, you'll have a combination of other movies and TV series.
Apple TV is currently making its way to the streaming world. As an IPTV server, this platform also gives you a huge variety of different types of movies, TV shows, and documentaries. Also, you'll get the Apple originals which are only available here.
Illegal IPTV
Finding illegal IPTV can be tricky work to do. But to satisfy you and to save your time, we've listed out some names.
This site uses identical computerized software to detect and download copyrighted content continuously.
Many of you might have come across this name. However, this site is providing 600 TV channels unlawfully at a shallow rate.
It's one of the large sites with a huge amount of content. They target different types of consumers and convince them to become a subscriber to their channels.
They have thousands of channels on this site with no refund policy.
Containing more than 400 channels, this site won't give you any legal safety.
The Importance of IPTV Legality
Nowadays, more and more people are liking the idea of IPTV. And this is why the legality of IPTV is so crucial. Its legality should be introduced industry-wide to the market, which can benefit both the customers and its providers.
Some predefined rules should be set by the providers, which every company will follow to guarantee equal rights in the playing field of its marketplace.
This set of rules will serve as both protection and guarantee for customers claiming that using this platform is safe and legal.
Why Should You Avoid Using Illegal IPTV?
Not only the providers but also customers can get in trouble for using illegal IPTV services. Here are some consequences that you might face if you consider using an illegal IPTV service,
Getting Scammed
If you're using an illegal IPTV service, then be aware of getting scammed. However, if you're planning on taking action with the help of the law, then it might be a problem for you as they don't have any law, so you cannot take steps legally.
Viruses and Malware
Many of these sites bear malware, which can damage your PC data. So it might not be a wise decision to risk it all.
User Experience is Poor
You might not get a smooth experience while using the illegal IPTV. Whether the case is too many ads or the poor player buffering, the experience won't be so satisfactory.
Watch Out for These Types of Illegal IPTV Services
There're many illegal IPTV services which you need to watch out for. But among them, we're listing three types of illegal services here.
Websites That Seem Shady
While having so many legal IPTV services, you can still come across some shady illegal IPTV services. Many websites provide such services, and that's why you need to do your research on any IPTV site you wish to subscribe to.
Check if the site owners have a license to broadcast the content to ensure that you are not at any kind of risk or are not breaking any rules and laws.
Third-Party Illegal Plugins
As we all know, IPTV services require a set-top box, and some come with particular plugins, which are used for accessing IPTV streams.
While you'll find many official plugins by legal IPTV providers, you'll also come across some illegal ones too. Some third-party plugins are built to leech broadcasting feeds from the legal IPTV service providers and use them as their service without paying.
Laws should be made strict that these types of services are illegal, and those involved will face the consequences. So always use plugins from authorized sources.
Subscription Services of Third-Party
Who won't take things if they are getting them at a cheap rate? You'll find many third-party IPTV services at a cheap subscription rate, but my friend, be aware of such services. As they are not trustworthy, so avoid cheap services of IPTV.
Always do your research before subscribing to any IPTV service at a cheap rate. Find the legal ones and use them.
Law on Illegal IPTV Services
Different countries have different laws executed on illegal IPTV services. Here are some of them.
UK
The UK enforced a law on the Digital Economy Act in the year 2017. According to the law, anyone providing illegal IPTV services can get prison sentences up to 10 years.
US
According to the Digital Millennium Copyright Act of the US, you'll get penalties and have to pay fines if you provide IPTV services without a license.
Canada
There was a law saying, anyone providing unauthorized IPTV service has to pay a settlement to the copyright holder. But this law was changed in 2019. Now you might not have to pay the settlement, but you'll get a warning and might have to pay a higher penalty fee for providing illegal IPTV services.
Frequently Asked Questions
Is VPN needed for using IPTV services?
Well, if you're using illegal ones, then yes, it is needed to protect your identity. But legal IPTV services are safe to use without a VPN.
What does IPTV mean?
IPTV means internet protocol television. Any television service you get via the Internet is called IPTV service. You can use IPTV to watch your favorite movies, TV shows instead of your traditional TV cable.
Is it safe to use IPTV?
Yes, it's safe as long as you are using a legal IPTV service. The legal IPTV providers have licenses to broadcast TV content, whereas the illegal IPTV service doesn't have any license, so it's not safe to use illegal ones. Try to avoid using illegal IPTV as it can get you in trouble for breaking the law.
Conclusion
The differences between Legal IPTV vs Illegal IPTV should be clear to you by this time. As you've gone through the comparison, we'd recommend you not to for illegal IPTV. It won't be a good call if you're planning to use it for the long term.
Disclaimer: IPTVAdviser.com does not verify the legality or security of any add-ons, apps or services mentioned on this site. Also, we do not promote, host or link to copyright-protected streams. We highly discourage piracy and strictly advise our readers to avoid it at all costs. Any mention of free streaming on our site is purely meant for copyright-free content that is available in the public domain.
Disclosure: IPTVAdviser.com is a reader-supported blog. When you buy a product(Hardware, device, accessories, or VPN, we're not affiliated with any IPTV service or app) through links on our site, we may earn a commission.