Nowadays, watching TV content on digital platforms has become a popular practice among people of all ages. Smart IPTV is one of these streaming platforms that allows you to get access to a wide range of TV channels along with various gaming sites and apps.
You can easily use your PC to stream all your favorite shows and other content whenever you want.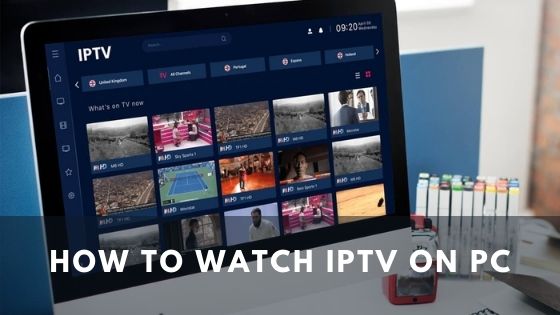 This article is all you need if you want to know how to watch IPTV on PC. Here we have provided all the information about selecting the best IPTV player and the right procedure to use them while you watch IPTV on your PC.
Getting the Best IPTV Player for Your PC
An IPTV player works as a medium to stream the television contents supported by Internet Protocol Networks. So, if you do not select the best one for your PC, you might experience unwanted buffering and disruptions while watching any content on IPTV.
There are a bunch of IPTV players on the internet, but when it's time to choose the right one, you can get confused easily. VLC player, MyIPTV player, and Simple TV player are three top-rated software that will provide you the best service while digital streaming.
These players can analyze .m3u/.m3u8 playlist links, and as a result, you can download .m3u/ .m3u8 files with them. Besides, they are portable software, which is easy to install.
Related topic: The 7 best IPTV Players for Windows in 2022
Finding IPTV Links for the Selected IPTV Players
Adding the IPTV link is an essential task while you are trying to watch smart IPTV on the PC. Because you can't access the channels without this link, and any bugs in this URL can ruin the entire effort of setting up.
While you are adding the link on the IPTV player, notice if the link has an ending extension of .m3u or .m3u8. In that case, you can just copy the link and add it to your installed IPTV player playlist.
But if you don't get this type of link but a .m3u file, you can't copy it directly to the playlist because this file mostly acts like a .mp4 file. In this case, you have to open the file on Notepad and find the .m3u8 link. Now, copy this link and add it to the playlist like the previous method.
Related topic: The 15 best IPTV service providers in 2022
Watching IPTV on PC Using an IPTV Player
After you have selected your preferred IPTV player and found the URL, all you need to do is follow these steps stated below and everything will fall in place.
STEP 1 – Installing the IPTV Player
Install the selected IPTV player and launch the software to your PC. Notice if it is free software or a small period trial version. As most of the IPTV players provide free installation, it is better to go for these ones.
STEP 2 – Streaming on the PC
Open the IPTV player and find the icon named "live." Now add the URL of your .m3u/.m3u8 playlist to the box and turn on the "play" button. The IPTV player will access the URL and play that channel instantly.
If you can't find the "live" icon in your installed IPTV player, just simply drag the .m3u file to the IPTV player, and it will stream the channel through the URL of that file.
Conclusion
Setting up IPTV on the PC is not a tough job if you have the right IPTV player and a set of convenient instructions. I hope you got a clear idea about how to watch IPTV on PC through some easy steps. Follow these guidelines stated in this article and maintain the privacy of your IPTV stream while watching on your PC.
Disclaimer: IPTVAdviser.com does not verify the legality or security of any add-ons, apps or services mentioned on this site. Also, we do not promote, host or link to copyright-protected streams. We highly discourage piracy and strictly advise our readers to avoid it at all costs. Any mention of free streaming on our site is purely meant for copyright-free content that is available in the public domain.
Disclosure: IPTVAdviser.com is a reader-supported blog. When you buy a product(Hardware, device, accessories, or VPN, we're not affiliated with any IPTV service or app) through links on our site, we may earn a commission.