You've probably seen your neighbor getting his/her new IPTV and you're just wondering what difference does it make anyway? Like c'mon. You've got your new 4K TV and it should be enough, right?
Well, the problem is your TV, even though it's 4K or let's say even 8K, it's just a regular TV.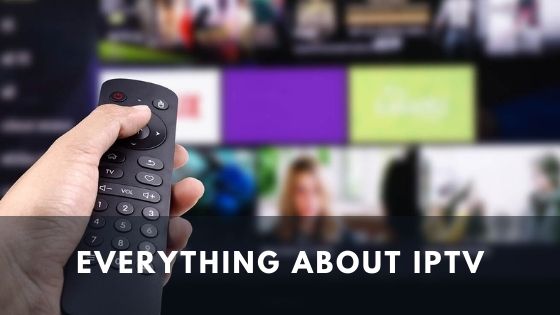 Now, if you want to find out what is IPTV and what makes it stand out compared to the regular ones, this write-up will answer all your questions.
Before going to the main discussion, you can check our recommended IPTV service providers here.
What Is IPTV?
We don't know about you, but we think the urge to dictate television streaming is what has given birth to the concept of IPTV. But what is IPTV?
IPTV stands for internet protocol television which is the television programming that gives its users the privilege to watch any of the TV channels without getting bothered about a cable connection. In a more brief way, IPTV streams visual or video content over the internet.
IPTV is the system that helps you to decide what you want to watch on your TV screen. People have started to like this concept more than ever as they don't have to roam around the same channels again and again where they've got no control.
After all, with the traditional cable connection, all you're doing is letting someone else control what you'd see in front of your eyes.
You already know how regular cable TVs work. The TV gets connected through cables where it receives the signals sent by broadcasters or TV networks, and you get to see the TV programs on the screen.
What we believe is the worst of all is you don't get to record any TV show or TV series unless you spend some thick buck on some kind of recording device. This means even if you want, you can't enjoy the streaming again.
Simply, you'll have to stick to the television content the channels are throwing at you, whether you like it or not.
But that ends with the IPTV. You need nothing more than a stable internet connection from your internet service provider to have access to the vast world of entertainment where everything will be right at your fingertips.
Want to know something more interesting? You don't need to stick to the one-way connectivity where you can't share information about demand over the content. The two-way interactivity IPTV comes with makes it easier for any user to have better control over what they will watch or want to watch.
Otherwise, why would the IPTV services have gained so much popularity out of the blue?
How Does IPTV Work?
Maybe you've only wondered so far about how IPTV works but never went for deeper thought on that or tried to figure it out. Well, today, you're going to get that question answered for sure.
Storing Programs
When it comes to LIVE TV programs, they're good to be streamed from the moment they're being recorded. But the scenario is totally different for prerecorded programs like movies, TV shows, etc. They have to be stored in order to be streamed on the demand of the customers of IPTV services.
By the way, if you're thinking that all the VOD (Video on Demand) services are storing all the programs out there, then you're holding a wrong idea.
Due to the shortage of storage, they prefer limiting the number of stored programs. Otherwise, we don't see any other way where they can put limitations over the bandwidth of their services.
Preparing Programs
No TV program is good enough to be streamed as long as they're being converted into any streamable digital format. After all, that's the only way to deliver them as packets through the internet protocol. It doesn't cause much of a struggle when the program is already in a compatible digital format.
But this is not always the case, especially when it comes to SD format. So, the IPTV Services have to go for a little processing where a conversion process takes place in order to convert the format into a digital one. The hassling part just doesn't take a break there.
Keeping the prevailing bandwidth limitations in mind, the IPTV services need to make the file size concise. There's a high chance of buffering while running their streaming service if they won't do that. But due to keeping it smaller, the streaming stays smooth. And buffering? That doesn't even get a chance.
Now there are a bunch of new formats that have made that part butter-smooth. Yes, we're talking about both MPEG4 and MPEG2 here. In these formats, any video content takes a compressed size without compromising the quality of the IPTV streams.
Between these two, MPEG4 is more appreciated lately as it keeps the quality of the video content at its peak while using the same kind of bandwidth. After the compression part is done, the advertisements are being pushed in, not without being encrypted, of course.
Streaming Programs
At the time of roaming in a website link with your browser, you're making a number of computers (usually two) connect each other where your one is working as the information absorber.
The computer that delivers the information, also known as the server, links to the corresponding IP address of that website you're peeking at.
This is where the client goes for a brief but intermittent conversation about the requested files from that certain server.
Due to the faster speed of the server, it becomes easy as pie for the clients to go for simultaneous downloading, not from one but many channels at a time, and that's without any delay. This kind of downloading is what we call IP Unicasting.
Viewing Programs
Anyone with an internet connection from any local internet service provider and a computer can enjoy IPTV streaming and any other TV shows.
But to be honest, not everyone is a fan of putting the TV into that small computer screen. This is where the devices like set-top boxes jump in to end the trouble.
Usually, a set-top box receives input from the internet connection you've got, gets the signal decoding done, and converts that signal into the perfect picture that displays on the TV screen, with the HD picture quality, of course.
One of the best things about these devices is they can be connected via both Wi-Fi and ethernet cable.
But are there any other alternative devices to STBs? Well, there is one, and it's called the Dongle. One of the main reasons why it's considered a better alternative to a set-top box is its compact size. On top of that, it's convenient to use too.
To make it connect the TV with the internet securely, all you need to do is slip it into the HDMI port of your TV and it'll get connected via Wi-Fi. Once the connection is established, it'll start streaming the TV content, movies, and many more.
Is Having a Set-Top Box Really Important for IPTV?
Well, that depends. Though most modern TVs come with the built-in feature to deliver IPTV service without adding up any additional devices. But the scenario is totally different for the older TVs. For them, there's no other way but going for STBs to put the IPTV streaming services on your table.
If you're thinking about buying an IPTV Set-Top Box, please check our recommended IPTV boxes– buy the best one without breaking your budget.
If you've got an older TV too, you've got no other choice but to use set-top boxes like Roku, Apple TV, and Amazon Fire TV. These are the perfect set-top boxes that can translate the contents in a readable format from the internet and display them on your TV.
But like we said in the earlier section, you don't need a set-top box when you want to have the IPTV experience on your Laptop as it too comes with a built-in connector within.
Types of IPTV Formats
What did you think? Something so vast like internet protocol television is not going to come with a bit of variation on the format part? Well, the surprising fact is it comes with not one but three different formats and that's what we're about to put some light on.
Video on Demand
VOD or Video on Demand – the name says it all. This streaming is all about getting you the videos as per your demand. Usually, the Movie-streaming sites you see are known as the VOD services. Here you don't need to look at the clock while enjoying a movie as it doesn't come with any time limit.
All you need to do is ask the service what you want right on your screen, and the service will put it there — simple as that. If you're asking for some examples of VODs, names like Hulu, Amazon Prime Video, and Netflix are worth mentioning.
Time-Shifted Media
How would you feel to see shows that you've missed earlier just because of your tight schedule or the shows you've been missing regularly due to unavoidable reasons?
If your answer is 'fantastic,' then this is the right kind of IPTV for you. After all, it allows the customers of IPTV services to enjoy missed shows in their own time.
What makes time-shifted media different than Video On Demand is the shared contents come with a limited shelf-life. We call it more of a drawback, to be honest. After all, if you miss any episode of any show years ago, you've got no way to give it a revisit. But VOD on that part is free of that.
LIVE IPTV
As same as the broadcast TV, IPTV also delivers the scope to watch shows, but Live. There are millions of sports lovers out there who prefer watching the events Live. The best part here is, you can enjoy the game streaming on our mobile as well as you do on FuboTV. Live TV works in pretty much the same way.
Reasons to Go for an IPTV service
Nobody puts their hands in their pocket unless they're getting some benefits out of it. Clearly, IPTV is nothing beyond that as well. But when it comes to IPTV, there is a pile of benefits that are good enough to make anyone get started with it in no time, unless they're happy with their 'traditional' cable TV services, of course.
Clarity
It's simply impossible to ignore crystal clear picture quality when all you have done so far is compromising on that part with your regular cable streaming service. But internet protocol television has taken care of that and replaced blurred pictures with total clarity. If that doesn't sound right, we don't know what does.
Interactive TV-guide
We bet this is not something you're getting in your regular cable TV network. But from the moment you connect to an IPTV provider and their service, you don't need to wait to have the program schedule of each and every channel.
Automatic Switching
Once you mark shows, whether it's any movie, live TV, or show and schedule that channel, it'll take you to that particular program whether you change it or not. We believe this way, you have literally zero chance of missing your planned shows. This is what we call the beauty of the right streaming services.
Recording Content
Who knows which program you'd love to revisit or want to see again with your loved one? Well, when you're tagged to any of the IPTV streaming services, you can get any of the shows recorded, even it's a live TV show.
And in case you didn't notice, you can record from multiple channels at a time. If that's not a great IPTV deal, then what is?
Parental Control
We don't see a reason why we shouldn't thank IPTV providers for this feature. For obvious reasons, not all content owners or content creators put kid-friendly content in the streaming services.
But you've got scope to set certain codes on the channels and contents which will prevent your kids from coming near to any unwanted streaming. You might not have control over all the websites they roam on their phone, but here it's different.
Video on Demand
You've already got a clear idea on this part, but it's worth mentioning as it is one of the biggest advantages of IPTV services. The moment you're getting IPTV subscriptions, you're opening your door for unlimited content where you can watch each and everything you want on your demand.
You even can pick your preferred genre in order to be a bit more specific about your choice.
HD Service
Who doesn't want to watch their favorite channels on HD, right? With HD service, you can manually turn your channels into full HD just like that. On top of that, it opens the door to more detailed visualization backed by vivid colors and sharper images.
STB Device
There's nothing new to say about this part. Even if you've got an old TV, you won't have to walk away from the IPTV services as with an STB device, you can convert almost any regular TV good enough to get IPTV service.
If you have this device, you won't have to walk out on the Internet Protocol TV providers even if you've got more than one TV in the house.
3D Channels
We haven't seen people who call themselves movie lovers but don't love 3D movies. Guess what? IPTV service providers have added that to their arsenal too. All you need to do is download your provider's application and enjoy the streaming wherever you like.
How to Be Sure About the Legality of IPTV?
There's no doubt that the concept of IPTV is comparatively new for the world. But it's growing so fast that just within 2019, it has turned into an industry of $40 billion. Guess what? There's a high chance of it surpassing the $100 billion just within the next 4 years.
It's a clear sign the many TV users are leaning towards IPTV services, like more than ever. But is IPTV subject to legality, and what makes IPTV legal?
Well, any IPTV service is considered a legal IPTV service when the provider does not violate any copyright laws. And yes, it needs to grab a license as well when it wants to provide any program.
As a viewer, it's not easy to find out if you, too, are a user of illegal IPTV services or not. But it's not entirely impossible as well if you keep your eyes open to a few indicators of the legality of IPTV:
See if they're linking to their partner or not.
Do they come up with their own dedicated streaming app or not.
Are they using minimal ads or not.
Are they selling other services or not along with IPTV like the other legal IPTV providers.
These services can be internet, telecommunication, etc.
If any of the IPTV providers meet these expectations, they are good enough to be considered as legal IPTV services.
How to Understand Which IPTV Services are Illegal?
No matter how good the service seems in the beginning, illegal IPTV services are never worth continuing. But how are you going to find out if you're using an illegal IPTV service or not? Well, you can surely check out for certain indicators like:
If they are on offshore hosting, there's a high chance of them being an illegal IPTV service.
In case there's no association with streaming and downloading television content where licensing is involved, it's a sign of illegal IPTV.
They're offering non-licensed channels.
Illegal services usually hide the names of their partners.
The services they're offering are free or too inexpensive.
They ask their user to use VPN in order to get an optimal experience.
Illegal ones mostly prefer payment methods that are untraceable, such as cryptocurrencies.
So, if you're seeing these signs in a provider, feel free to count it as one of the illegal IPTV services.
Do you think you're already using an illegal IPTV service? Don't worry, use our recommended VPNs for IPTV to avoid ISP logging and unwanted privacy issues.
Why using Illegal IPTV Services is a Bad Idea?
You're getting it at a lower price and sometimes for free. Then what's wrong with illegal IPTV services, right? Well, if you see nothing bad in it, then be ready for a bunch of problems like:
Chance of Getting Scammed
When an IPTV service is legal, it doesn't put you at the risk of getting scammed. But there's no guarantee like this when you're keeping up with the illegal one. So, even if they're getting subscription payments and disappearing, you really can't do much about that, can you?
Viruses & Malware
Many illegal IPTV website links come with malware. So, there's a high chance of them infecting your PC or mobile in no time once you hit the access. On top of that, they can steal crucial data of yours too.
Dissatisfying User Experience
What else can you expect from these services but a poor and dissatisfying user experience? After all, they are not regularly updating the system to make their user feel better about the service like the legal ones do.
Your Internet Connection Might Get Disabled
No ISP is going to like that their users are getting themselves involved in something like illegal IPTV service. Due to that, they might disable your connection, too, if they feel like that's the right thing to do.
Conclusion
Technologies are like energy — they never get destroyed, just change their form. Things are pretty much the same for TVs as well. People still watch TVs, but now they're more into IPTV as that's the new definition of television, whether it's for live TV or regular programs and movies.
But before you step into that world, you better get to know what is IPTV and everything about it, or at least most of it. We think you've already got hold of it after reading this article of ours, haven't you?
Disclaimer: IPTVAdviser.com does not verify the legality or security of any add-ons, apps or services mentioned on this site. Also, we do not promote, host or link to copyright-protected streams. We highly discourage piracy and strictly advise our readers to avoid it at all costs. Any mention of free streaming on our site is purely meant for copyright-free content that is available in the public domain.
Disclosure: IPTVAdviser.com is a reader-supported blog. When you buy a product(Hardware, device, accessories, or VPN, we're not affiliated with any IPTV service or app) through links on our site, we may earn a commission.