Are you looking for an easy way to install the Smart IPTV App on Firestick, Android & Smart TV? Then this is the right article you need to read before you can successfully do that. 
Here, you will learn about the installation process, features, benefits, cons, and everything else you need to know. So, if you don't know how to install the Smart IPTV App on Firestick, Android & Smart TV, you'll have the instructions after a couple of minutes.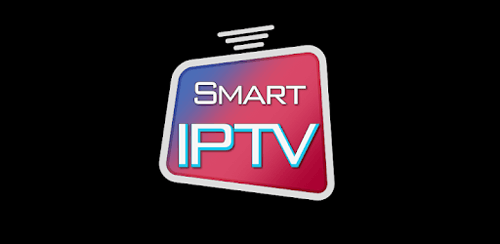 How you will install the Smart IPTV App (SIPTV APP) on your devices?
The direct and simple answer to that is:
Android- Go to play store> Search Smart IPTV > Click Install.
And that's all done. 
But if this doesn't work, search Smart IPTV App on Google and Get into a third-party website and use it for smart tv app download.
Firestick- Go to App Store > Install a Downloader> Go to http://siptv.app and install from this website.
Install Smart IPTV App on Amazon FireStick
For those who want to install Smart IPTV App on their Amazon firestick, this is the main focal point of this article for you. Let's find the installation process of the Smart IPTV App on your device. You have a 4K TV, so you would like to watch 4K content on that. And cable is not your choice for Smart TV. So, the Smart IPTV App (SIPTV APP) can be the vivid media player app for firestick. There're the steps for installing the Smart IPTV App on your firestick to enjoy your favorite IPTV service, movies, and web series on amazon firestick.
First, go to Setting.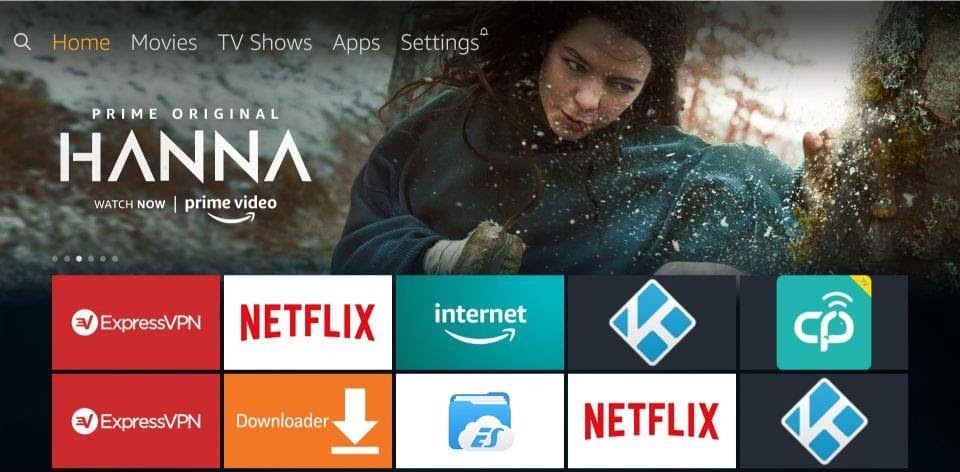 When you are in the setting tab, look for My Fire TV.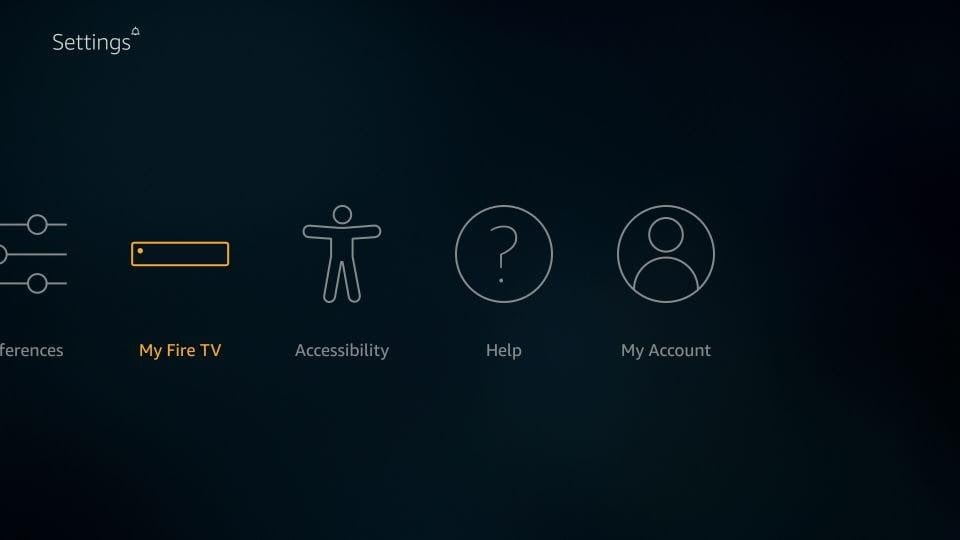 Now find you have to find Developer Option.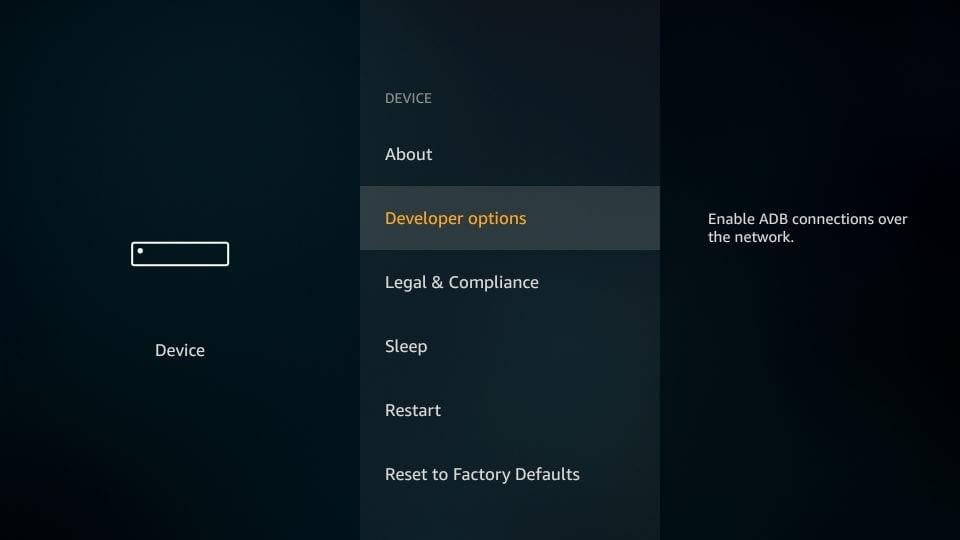 Tap on Applications from Unknown Sources when the window opens.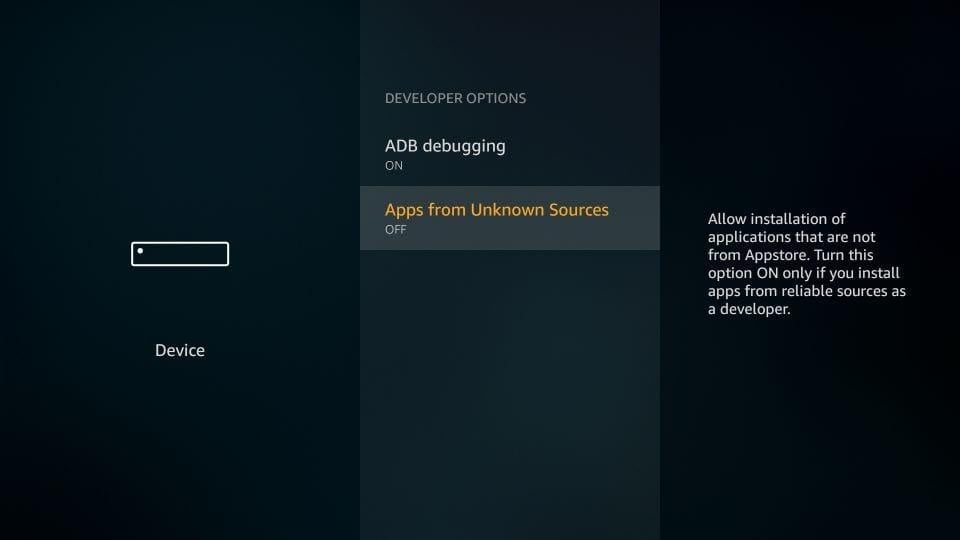 By default, this option is switched off. Select and enable it. You are now prepared to install Smart IPTV on your FireStick.
You should press the home button from your remote control.
Now it's recommended to click on the search button for channels.
Search for an app named Downloader by Troypoint. This app will help you to install the Smart IPTV App from other sources than the FireStick app store.
Now open the Downloader App.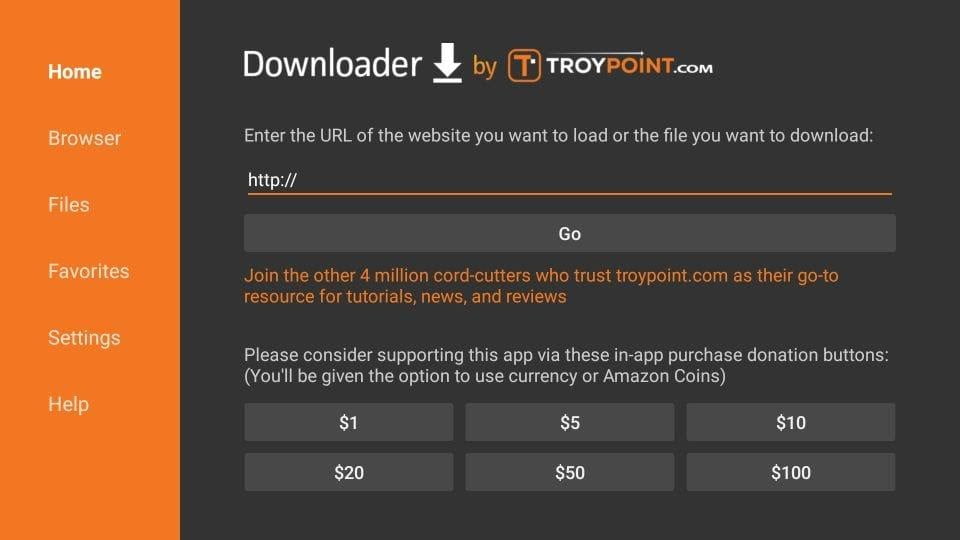 Browse the main website of https://siptv.eu with your remote and press the pause/play button to visit the website.
Drag and tap the cursor to the instruction. Scroll down to Android TV and Amazon FireTV. Click on it.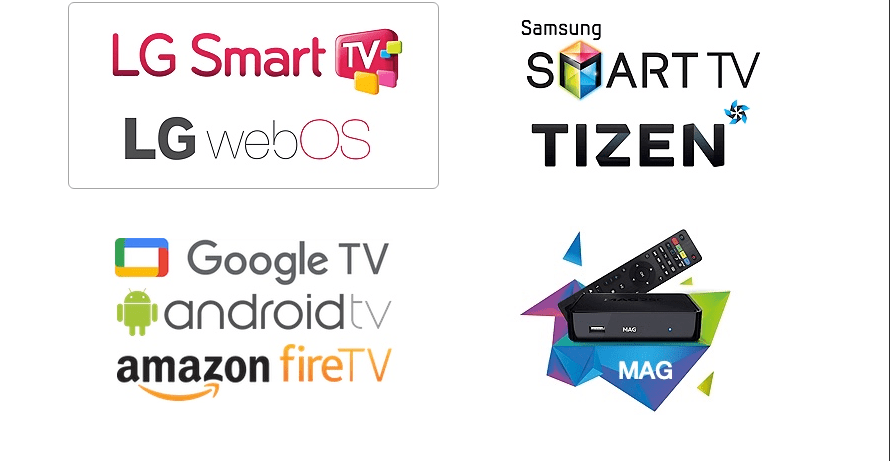 Then scroll down and scroll right where you will find the Smart IPTV apk file. Click to download it. Now a download will pop up and let you install the apk.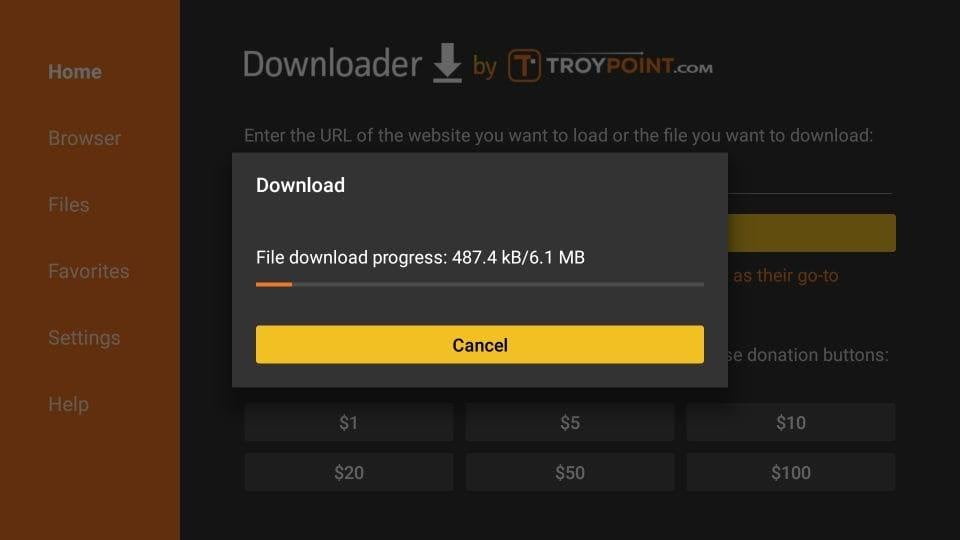 Click on install and let all permission the apps need to run.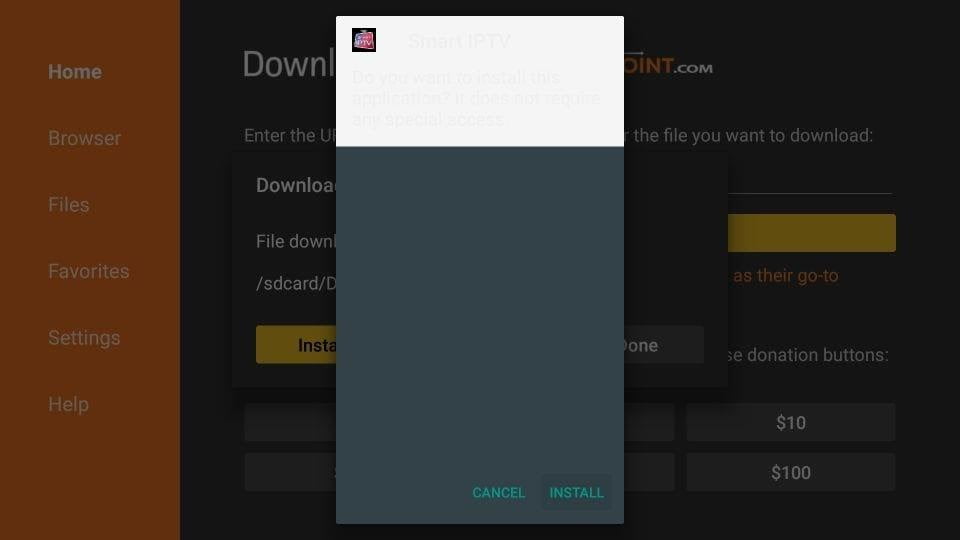 After installing, you will return to the download window then delete the file from your device storage.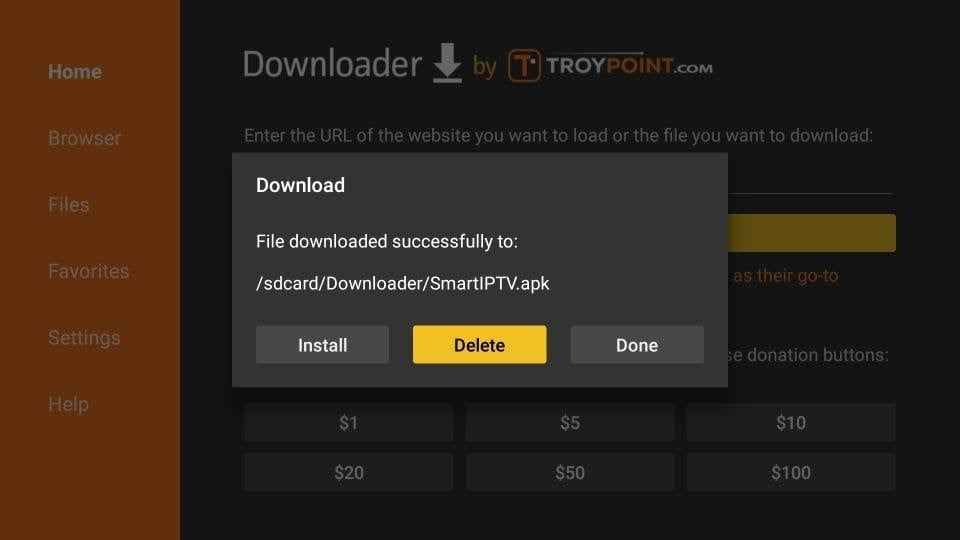 And that's it for downloading and installing Smart IPTV App on your FireStick.
Install Smart IPTV App on Android TV
For those who have an Android Smart TV, the actual method you are looking for is here.
Most of the Android Smart TV has a Google play store installed on them. Check the play store for Smart IPTV and push the install button.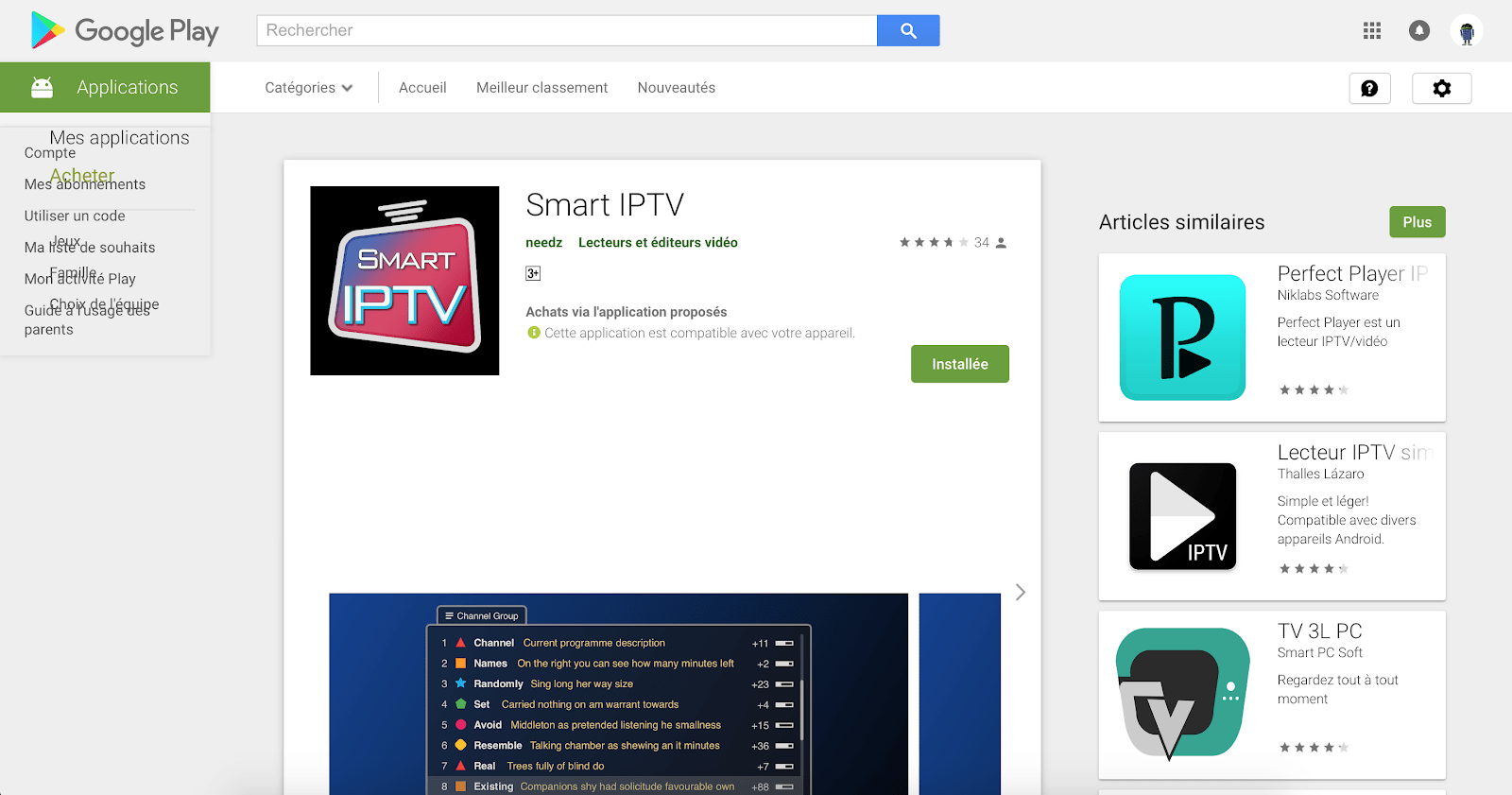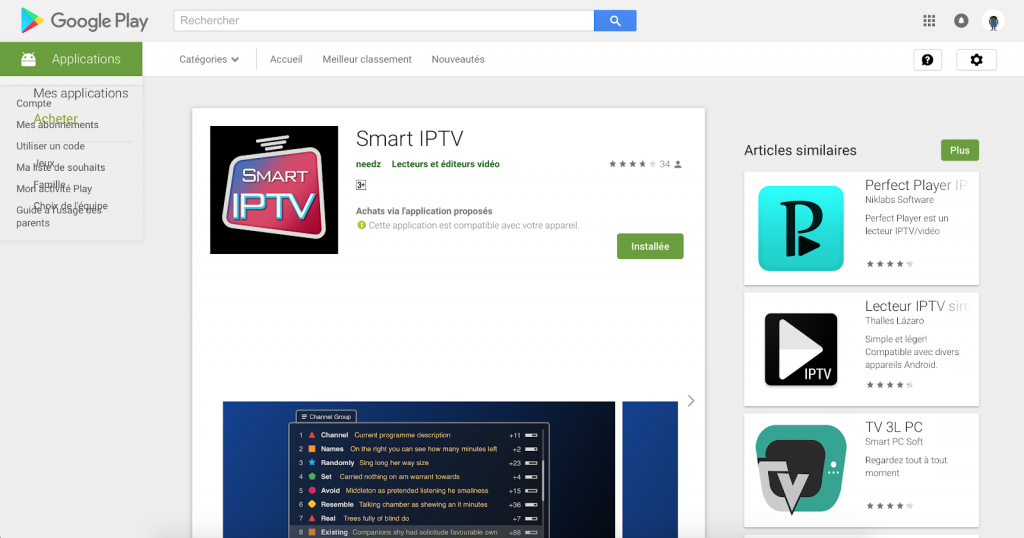 But if you are unable to find it in your app store or unavailable in your region, there is another way to download the apk file for android tv.
Go to Chrome Browser on your android tv and search the term "Smart IPTV apk".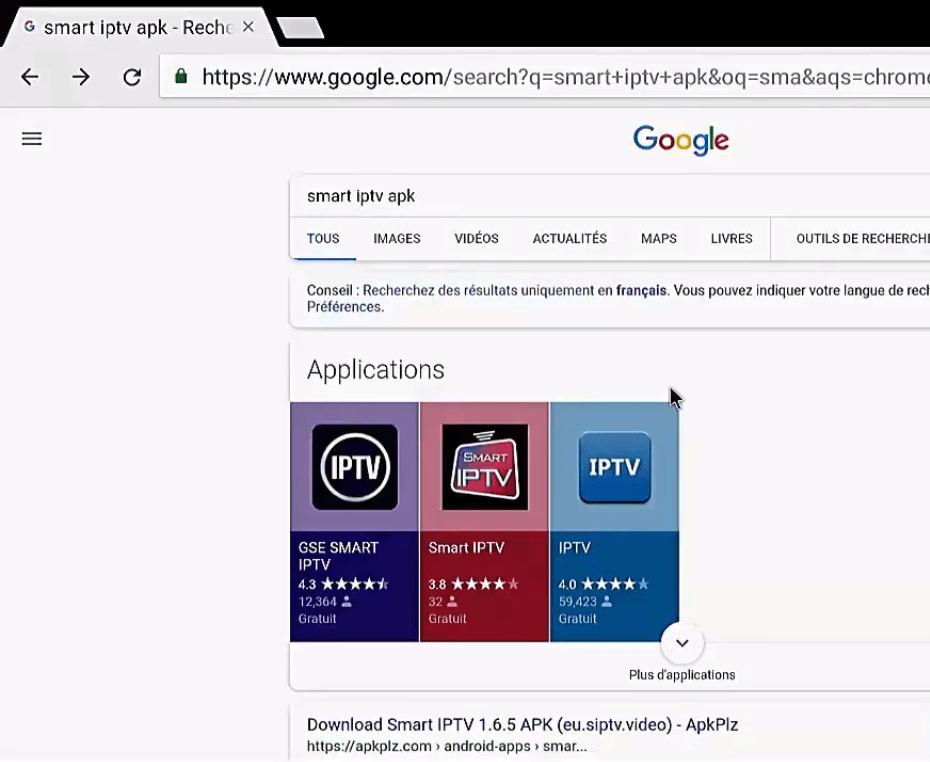 Then click on the link of apkplz.com.
Scroll down through the page and click on I am not a robot.
Tap on Applications from Unknown Sources when the window opens.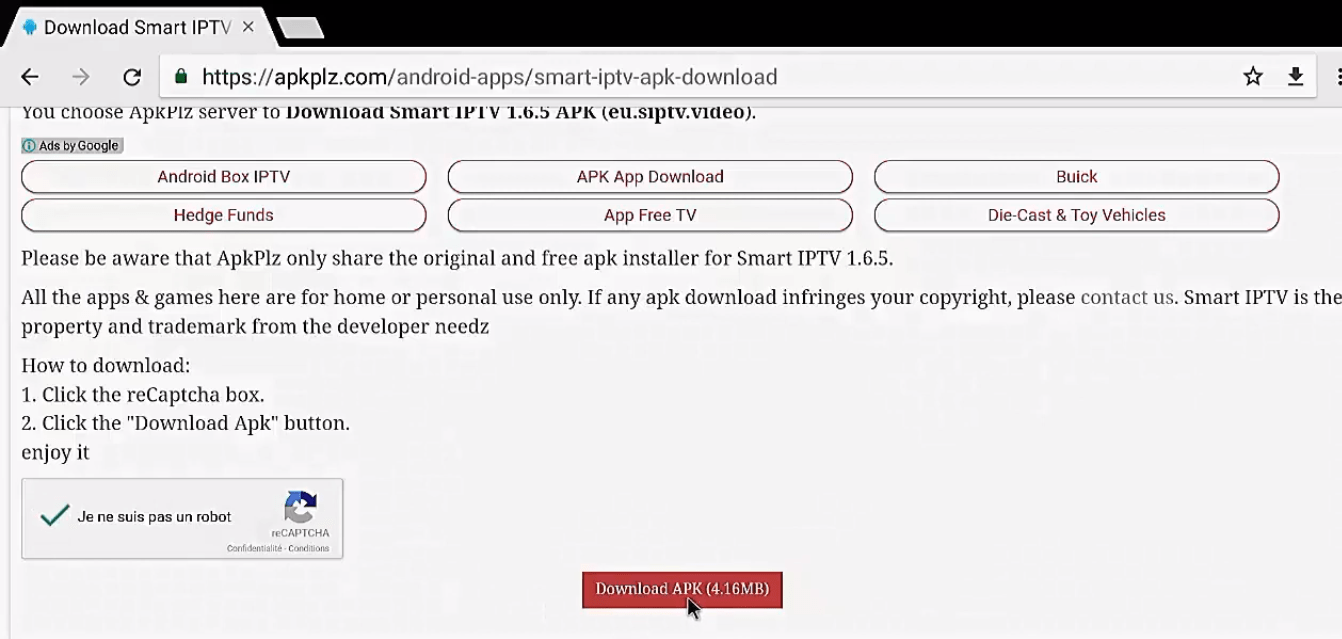 Click on install after saving and give it all the permission to install the software.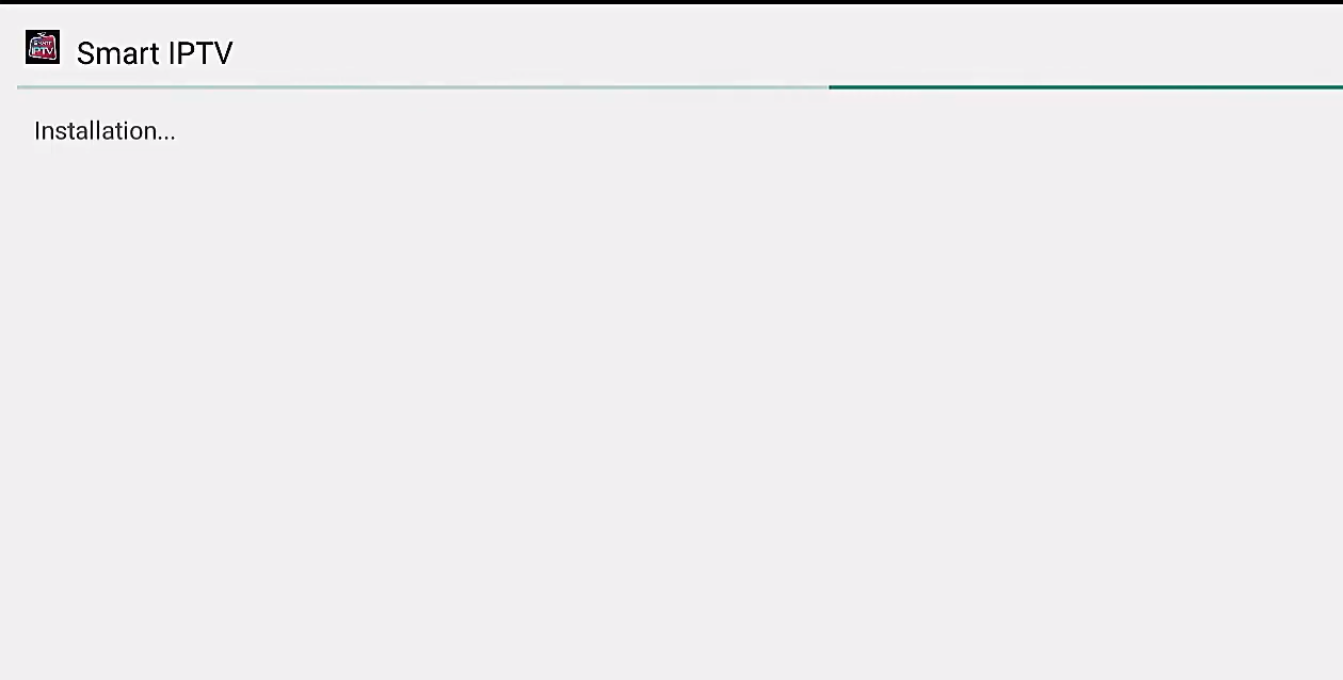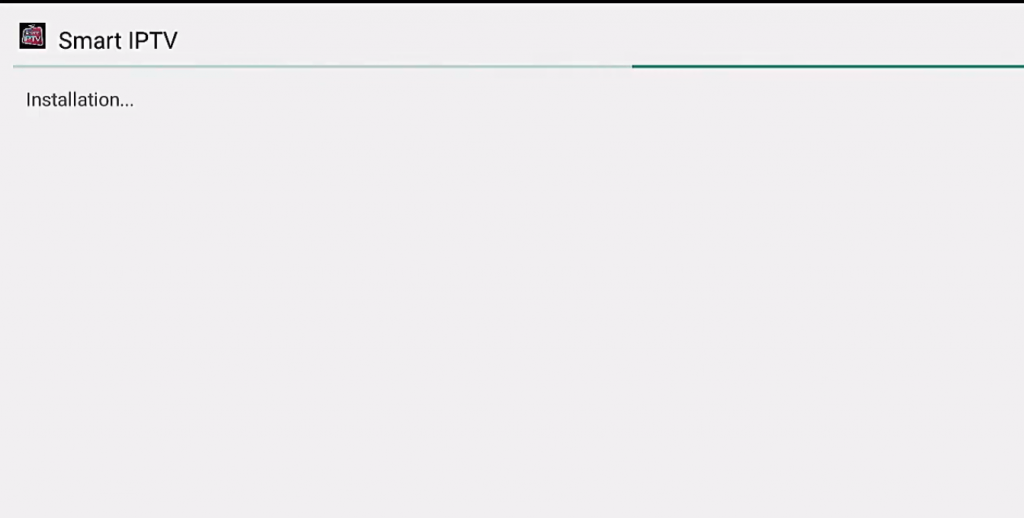 Just click OK and return home when the installation is finished.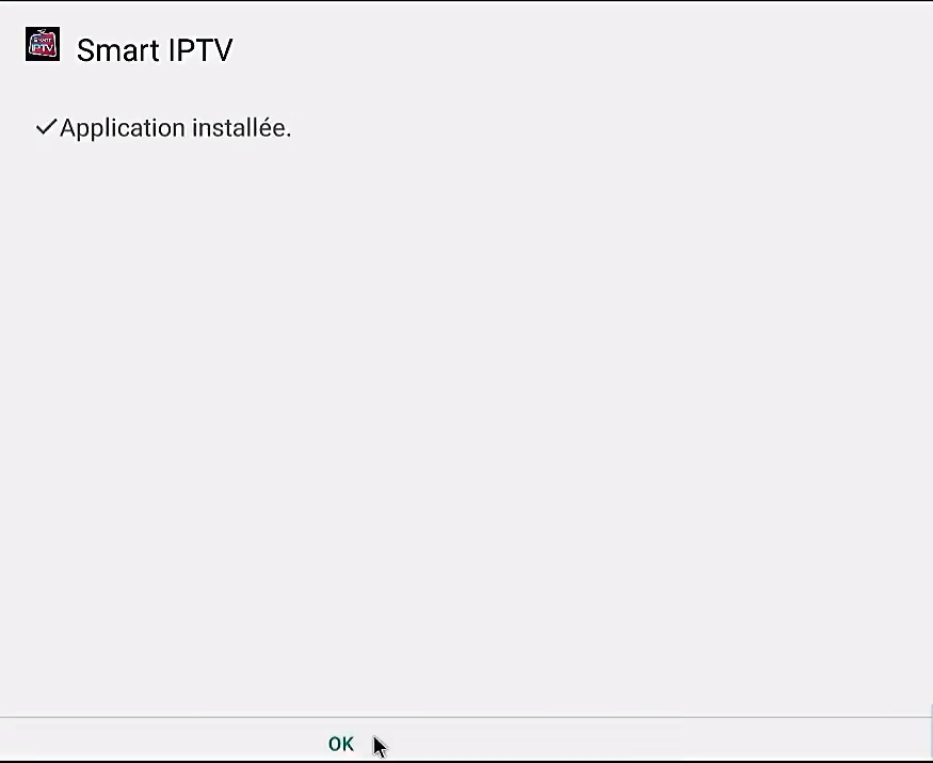 Open your app drawer, and you should find your free smart IPTV app installed.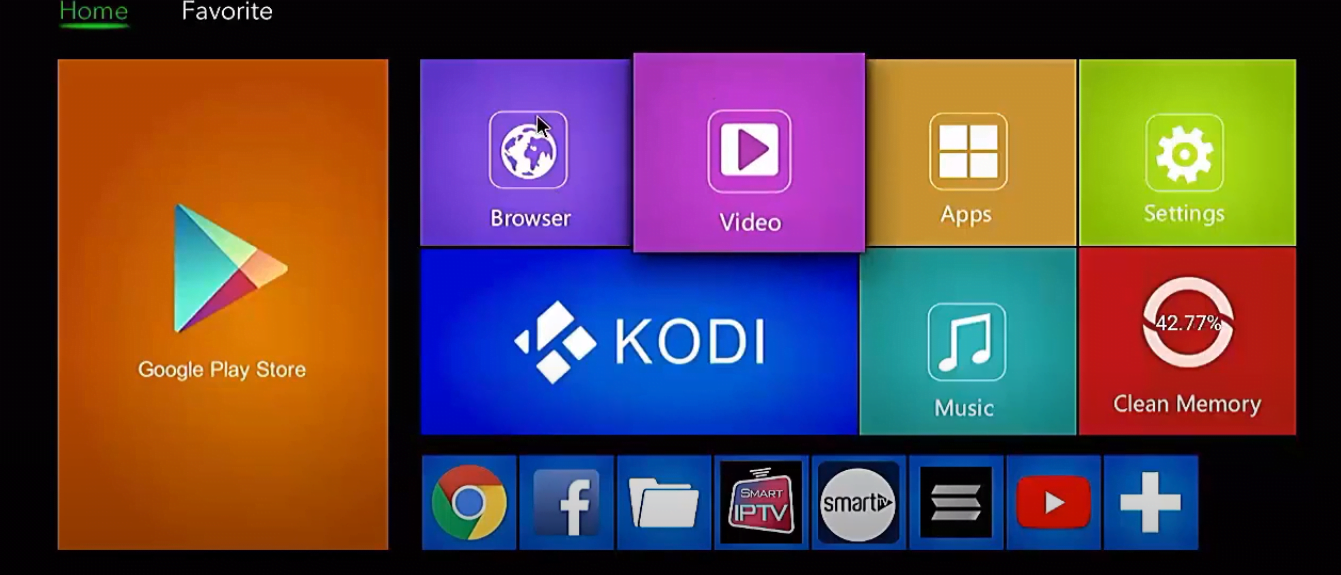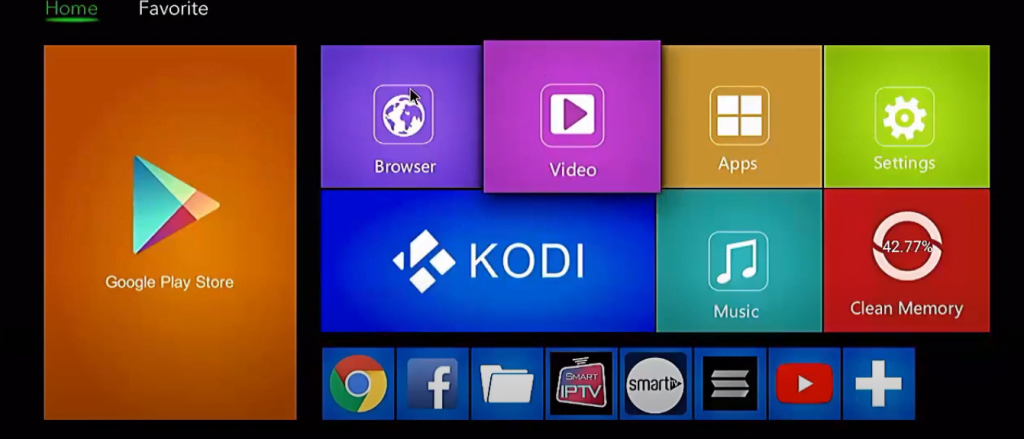 Now you know how to install smart IPTV on both Amazon Firestick and Android TV. But some of the companies have banned this awesome smart tv app from their own app store. So here we are going to learn how to install the Smart IPTV App on a particular TV. 
In this post, we are going to provide you with the easiest way to install the Smart IPTV application. On LG smart TV and Samsung Smart TV
Install Smart IPTV App on LG Smart TV
LG has the Smart IPTV app download option available, where Samsung doesn't. And you need to go to the LG Content Store for Smart IPTV App.
Click on Apps and Games. You can find the Smart IPTV App on the hot apps menu, or you can search it on the store directly.
Now click on the downloaded file and then press the install button.
Now you have the Smart IPTV App on your LG Smart TV.
Install Smart IPTV App on Samsung Smart TV
Installing Smart IPTV on Samsung can be a difficult task. Samsung banned this app without any warning. If you already have downloaded the app, then you shouldn't try to update it. And if you are trying to download it, then you have to look for an alternative to Samsung App Store.
Samsung has changed their OS on TV after 2018. So if you have a new generation Tizen TV or you have an older version non-Tizen Orsay TV, this method applies to all.
Go to http://siptv.eu.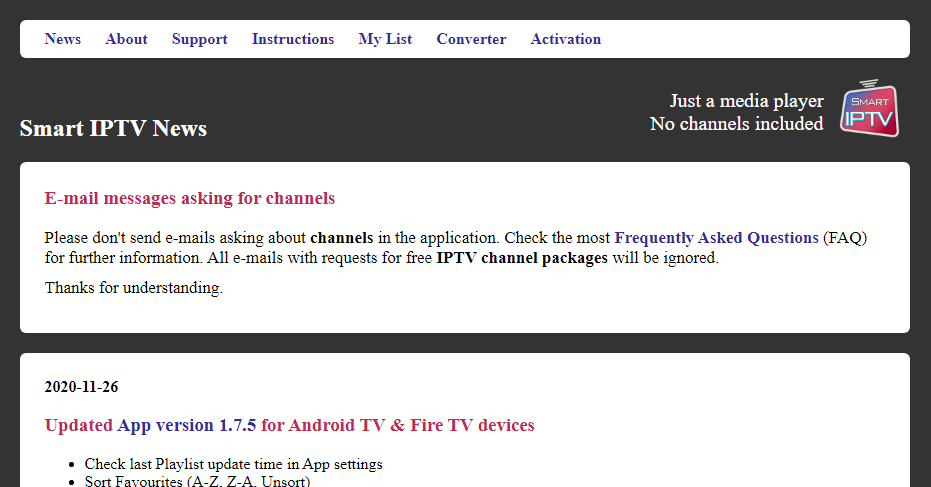 Click on the instruction menu.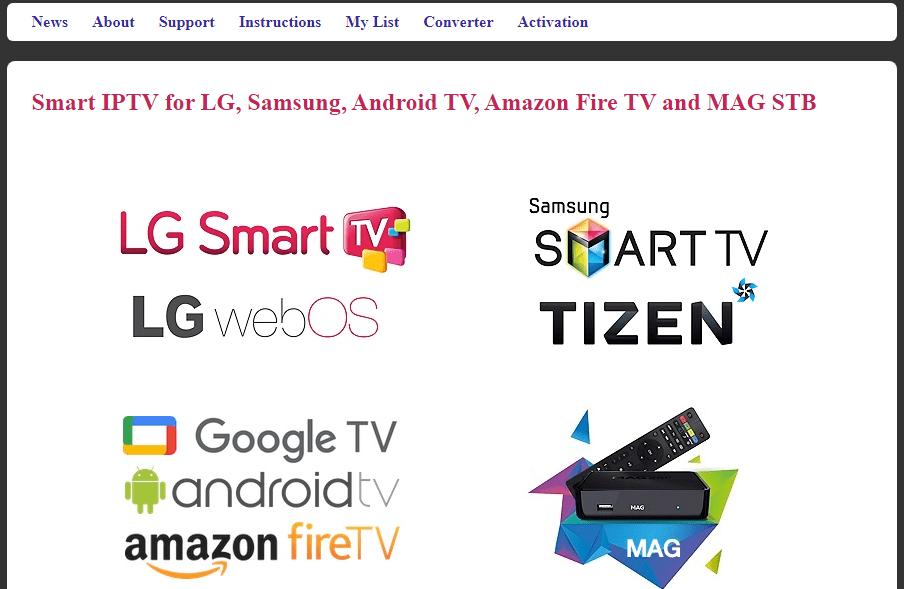 Select Samsung Smart TV Tizen.
Download your version of zip files of smart tv software for pc—either Tizen widget or Orsay widget.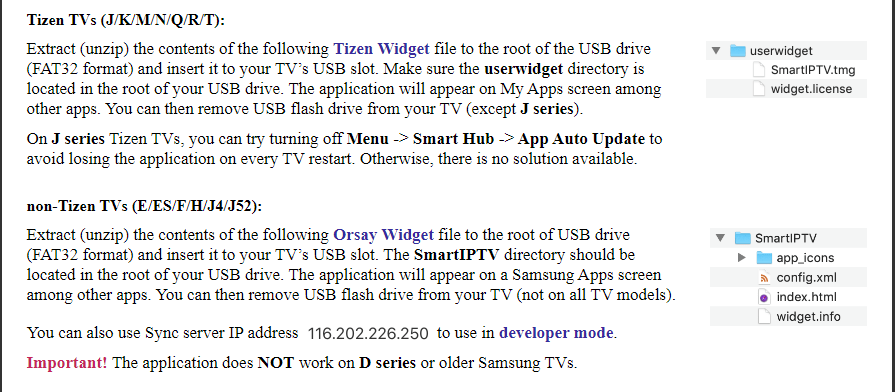 Now insert a flash USB drive into your computer.
Format the USB flash drive into exFAT (This is necessary to work with this method).
After formatting, make sure your flash drive is clean.
Unzip the widget files you downloaded earlier and extract them all.
Copy and paste the whole folder to root storage means directly on the USB.
Now put it into one of the USB female ports on your Samsung Smart TV.
And this should automatically install everything into the TV.
Add an IPTV subscription or channels on your Smart IPTV App, adding an IPTV subscription or channels is what you need now.
Adding IPTV subscriptions or channels on your Smart IPTV App
Now we have Smart IPTV App installed on our device. So, it's time to add IPTV subscriptions or channels on Smart IPTV App. If you don't have an IPTV subscription yet you can check our recommended best IPTV subscription services. Hope they will meet your requirements. You can also add any playlist or any type of media file on the Smart IPTV App. Let's follow the below steps:
Launch the 'Smart IPTV' app.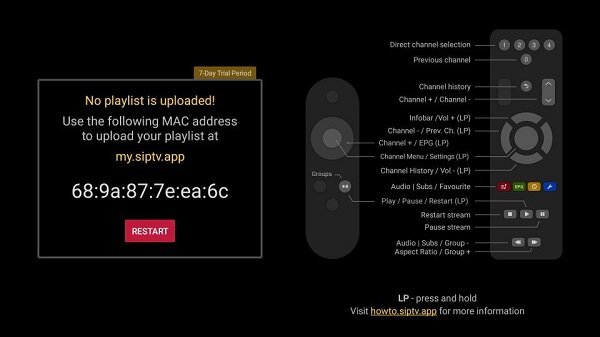 Make a note of the 'MAC Address' which is displayed on the screen.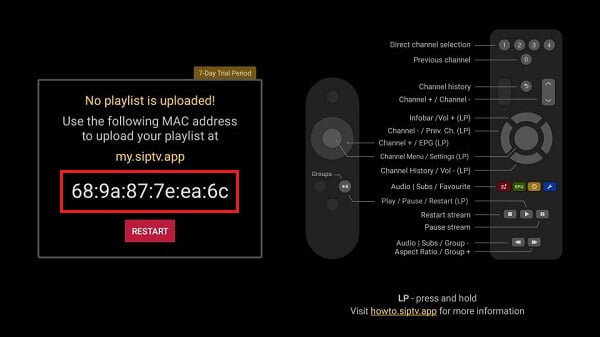 Go to http://siptv.eu/mylist/ from any web browser.
Go to the section 'Add external playlist links (URLs)' and enter your 'Mac' address to upload your playlist. Playlist File (from your local device) into the "Choose File" filed or URL (M3U or TXT file) into the 'URL' field and EPG (XML EPG URL) into the 'EPG' field. All the M3U Playlist File/URL and XML EPG URL will be provided by your IPTV subscription service provider.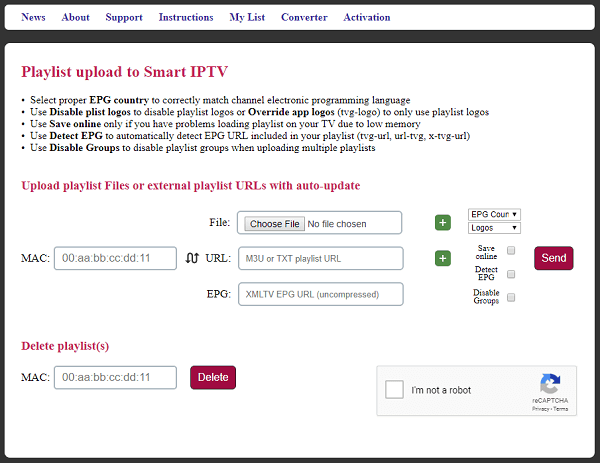 Check in the 'Keep online' & 'Detect EPG' checkbox.
Now check google captcha and click on the 'Save' button.
Restart the Smart IPTV App or your Device.
In order to view channel groups, press the blue button on your remote control. Note: This app is free to use for a period of seven days, you will then be asked to make a one-time donation of € 5.49 (Euros) towards the Smart IPTV App development. You can see the next steps to make a donation towards the Smart IPTV App.
Go to https://siptv.eu/activation/ from any web browser and enter your Smart IPTV App Mac address.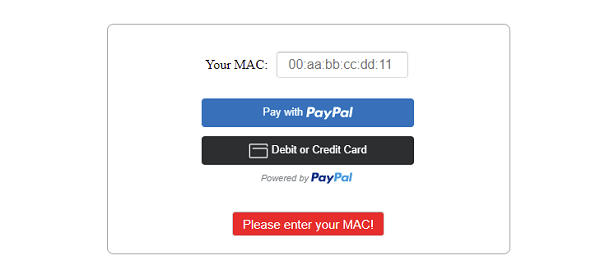 Now complete your payment according to your payment method. You can pay from your PayPal account or Debit & Credit Card.
You will be able to enjoy every channel you subscribed to from an IPTV provider in one place.
We have learned how to install Smart IPTV App (SIPTV APP) on Android and Firestick also on two specific Smart TV. But why should you install Smart IPTV App? What are the features that you can get? Ever thought about that? Let's look at some of them.
Features & Benefits of Smart IPTV App (SIPTV APP)
FEATURES
You can play both Live TV and videos in any format through Smart IPTV App. 
When viewing TV programs, it has clever features like pause, rewind, forward, among other program recordings is one of the special points. 
Very small and light app for your device.
BENEFITS
One link for Internet, TV, and communication (triple play). 
SD and HD Digital TV give high caliber. 
Work with both TV and PC.
Intelligence is vital: live data transmission, RSS feeds, Video. 
On-Demand (VOD), Music On-Demand (MOD), data pages.
Combining the Camera system in the same framework is very easy.
Live, Pause & Rewind.
PROS & CONS of Smart IPTV App (SIPTV APP)
Frequently Asked Questions about Smart IPTV App (SIPTV APP)
As there is some debate about using VPN or not while streaming on IPTV, then some questions should get into your mind. We will try to answer the most FAQ in this section.
Is Smart IPTV App legal? 
If you want a straightforward response, then yes. As long as the copyright is not violated, anything you watch on Smart IPTV is Legal because you are paying for the service.
Is Smart IPTV App free?
Nope, not totally. Smart IPTV App is not among the free smart tv apps. However, you will get a 7 days free trial when you first install it on your device. Moreover, you can purchase a subscription to it for $7 or less.
How do I add EPG to Smart IPTV App?
This one could be tricky and take you a lot of time to figure out how you can add your favorite channel to the list. But the simplest way is to go to my.siptv app and upload the URL of EPG sources you discover from the internet.
Does Smart IPTV App provide IPTV service? 
No, Smart IPTV doesn't sell playlists or IPTV subscriptions. So you can't get IPTV service from them, you can subscribe to other IPTV providers and add your subscription to this application.
Do I need to pay for using Smart IPTV App?
Obviously, you have to pay for the Smart IPTV App. You can get a free trial for a week before buying their app to continue your streaming experience.
How reliable is the Smart IPTV app? 
Very light app and reliable too. You can add multiple subscriptions into one app. So there is no worry about changing apps or servers to watch a different channel on the same TV.
Conclusion
Hopefully, you've enjoyed the article on How to install Smart IPTV App on Firestick, Android & Smart TV. By the way, people are relying on the internet for anything they want to enjoy. So cable TV is becoming old-fashioned. When Smart TV takes the game totally from cable TV, you will have to rely on IPTV services. And among the best, the Smart IPTV App is one of our choices to connect IPTV service on your TV.
We have covered how to install Smart IPTV on Amazon FireStick 4K, how you can configure Smart IPTV App on an Android Smart TV. You know how to install and configure on LG smart TV and Samsung Tizen TV.
Again in the end, Smart IPTV App is not illegal. We recommend using a VPN while streaming on it. Sometimes you will go for free IPTV services in your life. And those might be illegal and violate the copyright policy. 
Disclaimer: IPTVAdviser.com does not verify the legality or security of any add-ons, apps or services mentioned on this site. Also, we do not promote, host or link to copyright-protected streams. We highly discourage piracy and strictly advise our readers to avoid it at all costs. Any mention of free streaming on our site is purely meant for copyright-free content that is available in the public domain.
Disclosure: IPTVAdviser.com is a reader-supported blog. When you buy a product(Hardware, device, accessories, or VPN, we're not affiliated with any IPTV service or app) through links on our site, we may earn a commission.