As the internet is becoming more and more widely available in even the remote parts of the world, there has been an enormous surge of Internet Protocol Television (IPTV) or VOD services.
This article is purely educational. IPTVAdviser.com doesn't own, host, operate, resell, or distribute any streaming apps, addons, IPTV or services. The page contains some unverified services, and we are not certain whether they hold legal licenses to distribute the content. IPTVAdviser.com does not verify the legality of each app/service in all regions. Do your due diligence if you use any of the unverified apps/services, and stream only content that is available in the public domain. The end-user shall be solely responsible for the media accessed.
One of the most widely used and constantly growing services is Bunnystream, but how does Bunnystream fare among a sea of IPTVs? Does it provide a good enough value for a regular consumer to consider it over other solutions?
We here present you our Bunnystream IPTV review so that you can make a more informed purchase decision.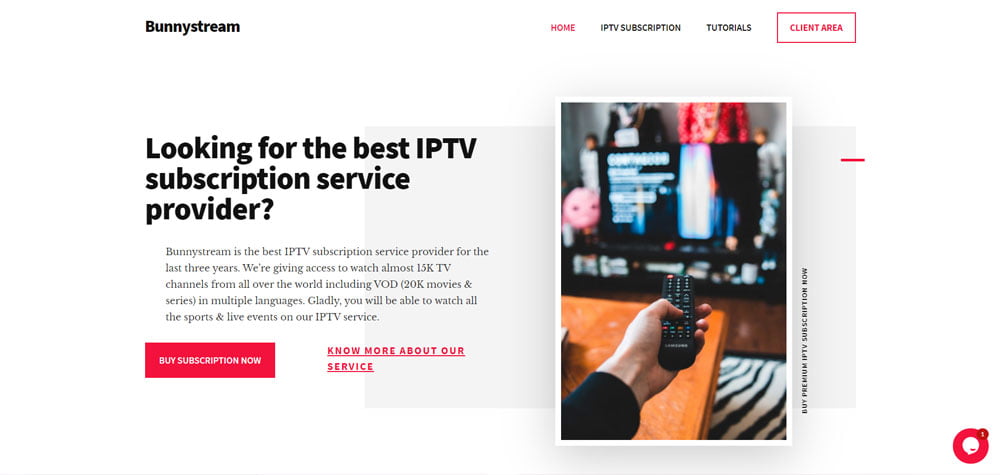 We will discuss all the pros and the cons and features available while also answering a few of the most common questions that can bug a relatively less-informed consumer. Keep reading and find out if Bunnystream IPTV is the best service for you.
Bunnystream – Overview
Everyone's ultimate aim is to have the most satisfactory IPTV service at a fair price. Owing to this demand, the IPTV provider Bunnystream has amassed a significant number of features to keep up with their competitors while satisfying customers.
Furthermore, Bunnystream is aware of the problems that its target audience is experiencing and has worked tirelessly to provide solutions to all the major issues.
The real battle between IPTV services and traditional broadcasting is in the number of channels each service provides to its viewers. Bunnystream IPTV beats standard cable by a long shot.
Bunnystream playlist has more than 15,000 channels. This service provider is like putting up a stiff fight against several other IPTV service providers in this market.
Also, almost as importantly, every channel is equipped with a system that is properly working. As a result, the number of reported problems is becoming shorter every day.
Bunnystream – Features & Details
When it comes to LIVE TV, people have a wide range of preferences in various areas. Some people like sports, while others prefer music, while yet others enjoy adult content. Let's take a look at what Bunnystream offers:
Thousands of LIVE TV Channel
Bunnystream's claim to fame is that they offer a wide variety of TV channels for almost all types of TV watchers. Their catalog includes more than 15K live TV channels, including nearly 500 premium sports channels from niche local to international and 300+ adult channels.
Thousands of VOD Content
However, if VOD is more your type of entertainment, you will be glad to know that Bunnystream has a playlist consisting of over 40K TV shows and feature films. From ongoing shows to classics, you will find just about any show you might want to indulge yourself in.
Supports Almost All Devices
So, if their quite impressive list of channels, shows, and movies are enough to attract your attention, you might be wondering if they are compatible with your device of choice. The chances are there won't be any problems.
Bunnystream supports all the popular devices such as Android TV, Android Box, Apple TV, Firestick Tv, Roku, Nvidia Shield, PC, MAC, iOS, iPad, Linux, and pretty much everything else you can think of.
Subscription Package & Pricing
Now coming to subscription cost, like few others in this arena, Bunnystream has a free trial period of 1 day where you can check out all their offerings without any cap. You can try out the whole laundry list of their features in this trial period without any restrictions whatsoever.
If you are impressed with their amenities, you can subscribe for 1 month, 3 months, 6 months, or 1 year.
The prices of which are $15, $35, $55, and $85, respectively. Comparing that to their competitors, we can safely say it is reasonable enough for their offered services.
They also accept all the major payment methods from PayPal, Skrill, Visa, MasterCard, AMEX, Neteller, Webmoney, Bitcoin, and other cryptocurrencies.
Quality
Bunnystream also doesn't skimp on quality. You will not be disappointed with their streaming quality as almost all their content is available in SD (480p), HD (720p), FHD (1080p), and UHD (2160p or 4K).
So, the chances are you can always enjoy your entertainment of choice, the native resolution, and the quality settings of your display. Another notable feature is that they have a proper Electronic TV Program Guide or EPG.
Reliability
A more avid IPTV user might be skeptical about connection reliability because IPTVs are notoriously unreliable by nature. The good people at Bunnystream worked really hard to mitigate this issue.
They have a well-trained and experienced support team that will be available to you 24/7 through live chat. Bunnystream also uses H264, which is widely regarded as one of the best video encoding systems for online distribution.
The use of Antifreeze technology will help ensure that you have a buffer and freeze-free experience too.
Frequently Asked Questions
Is IPTV fully legal?
The legality of a service is determined by the nation in which the subscriber resides. As a result, before making a purchase, ensure that the IPTV service is compliant with the laws of your country.
How fast does my internet need to be for Bunnystream?
To ensure that your internet connection is operating at optimal levels, please utilize a speed test like https://www.speedtest.net/ to test your connection during the day periodically. 16 Mbps is the absolute minimum bandwidth recommended by Bunnystream.
Can I subscribe to Bunnystream from anywhere in the world?
Yes, as of today, Bunnystream is available worldwide.
How many devices can I use simultaneously with Bunnystream?
Although one account can be logged into from multiple devices simultaneously, you can only watch on one device at a time.
Does Bunnystream offer a refund?
Yes, Bunnystream offers a full refund, but that is only eligible within 3 days from the purchase date.
Conclusion
As difficult as it is to find the perfect IPTV subscription for you, weighing out the good and the bad, Bunnystream is as good as it gets, especially if you absolutely have to have adult content.
From our Bunnystream IPTV review, you can see that the combination of price, quality, and reliability has cemented Bunnystream as one of the best IPTV subscriptions for the last few years.
And it is safe to assume that you will find your favorite shows and channels while not being disappointed with their service.
Website: https://bunnystream.com/
Disclaimer: IPTVAdviser.com does not verify the legality or security of any add-ons, apps or services mentioned on this site. Also, we do not promote, host or link to copyright-protected streams. We highly discourage piracy and strictly advise our readers to avoid it at all costs. Any mention of free streaming on our site is purely meant for copyright-free content that is available in the public domain.
Disclosure: IPTVAdviser.com is a reader-supported blog. When you buy a product(Hardware, device, accessories, or VPN, we're not affiliated with any IPTV service or app) through links on our site, we may earn a commission.