Before you sign up for a streaming service such as Hulu, it's natural to ask, "is Hulu worth it?" We were in the same place as you, but we chose to get a Hulu subscription anyway. Fast forward to today, we're glad that we did!
This streaming service contains shows from different channels and produces mind-blowing original series at the same time!
This article is purely educational. IPTVAdviser.com doesn't own, host, operate, resell, or distribute any streaming apps, addons, IPTV or services. The page contains some unverified services, and we are not certain whether they hold legal licenses to distribute the content. IPTVAdviser.com does not verify the legality of each app/service in all regions. Do your due diligence if you use any of the unverified apps/services, and stream only content that is available in the public domain. The end-user shall be solely responsible for the media accessed.
Hulu offers a wide selection of movies, series, and TV shows — many of which are unavailable on other platforms. In our Hulu review, we'll not only share our experience but also answer any questions you might have about this streaming service.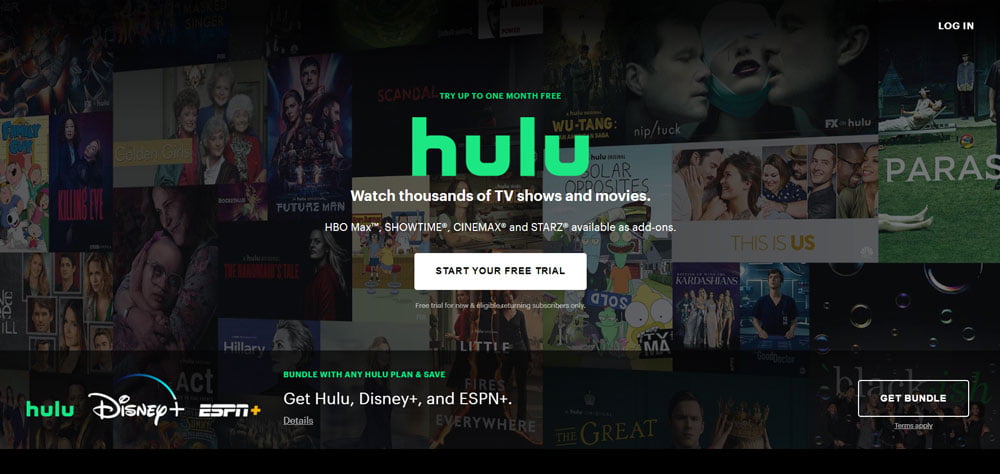 Plus, you'll also get to compare Hulu plans and costs to see if their Live channel lineup is actually worth it!
Hulu – Overview
In a world where we currently have over two hundred streaming services, Hulu brought great things to the table. First, it hand-picks the best shows from around the world and adds them to its library. Hulu drops old and new movies every month and keeps the subscribers at the edge of their seats.
But Hulu is yet to roll out big-budget productions like Netflix, considering how many Hulu exclusive shows don't get renewed. The good news is — its track records have been going up in recent years.
Another thing we liked about Hulu is the Add-ons. It allows you to get ESPN+, Cinemax, HBO Max, SHOWTIME, and STARZ subscriptions at a lower price provided that you buy Hulu (No Ads) first. However, the Live TV Add-on stands at $63.99 as we speak. Other than that, most Hulu plans will fit your budget.
Hulu – Features & Details
If you're interested in a simple streaming service with quality content, check out the key specs of Hulu! Chances are you'll end up loving it as much as we do.
Movie Collection
Hulu comes with a prolific collection of movies, sports, and Live TV shows; so do the hundred other streaming services on the Internet.
What makes Hulu better is that you can watch them as many times as you want and stream them on the go. Hulu also has a spot-on user interface, keeping the playback controls exactly where they need to be.
Live TV Channels
The basic Hulu library is fired up with addictive movies, hit series, and fresh-new episodes. It's always being refreshed, so you don't feel bored for a second. Additionally, you can enjoy Live broadcasts and news other than watching VOD content.
Hulu now supports over 75 Live channels, and it has no intention to stop. You can watch documentaries, movies, and series from ABC, CBS, CNN, Disney, E!, ESPN, Fox, MTV, NBC, TLC, Nat Geo, and many more!
Multi-Screen VOD
For now, users can simultaneously watch Hulu on two different devices. You can add the Unlimited Devices package to your existing subscription, which costs about 10 dollars a month.
The catch is — all of them will have to be connected to the same Home Network. Anyway, you're still allowed to stream Hulu on a private network, personal data, or Wi-Fi on three mobile phones.
Like Netflix and Amazon, Hulu also breaks free from the traditional broadcasting schedule. It runs on a Video-on-Demand protocol that lets you watch content as many times as you like, fast-forward or play it back any time of the day.
Content Quality
At $63.99, you can enjoy non-stop TV shows and watch Live sports on two screens at a time. The only thing we wish was different with Hulu would be the erratic ads. This is why we feel like Hulu is still a work in progress.
It sure overcomes most of the barriers on Hulu Live TV, where it offers multiple add-ons, premium networks, and Live sports channels. But it's got to bring more new and old shows and offer the same movie library for all countries.
Subscription Plans
The ad-supported Hulu subscription costs only $5.99 a month until October 8, 2022, when the basic Premium plan will cost $6.99 a year. 
So, yes. Hulu is available for less than $6 for a very limited time. Take our advice and grab it fast! Or, you can go for annual billing, which offers a year's worth of Hulu for a discounted price of only $59.99.
Frequently Asked Questions
Can I stream Hulu on FireTV?
Yes, you can watch Hulu on FireTV with an IPTV player in case you don't find it directly on the Amazon Store. Hulu also supports Android, Apple, Chromecast, Roku, PlayStation 4 & 5, Samsung, LG TV, Xbox One, Xbox 360, Mac, and PC. 
How to watch local sports on Hulu? 
To watch local sports on Hulu, you'll need a Live TV subscription. Or you might not be able to stream them at all because of regional restrictions. Consider a secure VPN that works with Hulu, so you never miss another show!
Which channels and networks are available on Hulu?
The Hulu streaming library includes most of the popular channels as well as the local sports channels in your area. ABC, CNN, Disney+, HBO, ESPN are a few channels that are available on Hulu.
How many screens does Hulu allow for Premium users?
Hulu allows watching on two screens at a time and an unlimited number of screens under the same Wi-Fi network. It costs an additional $9.99 for the Unlimited Devices add-on.
Is it possible to record Live shows on Hulu to watch later? 
Yes, you can record Live streams with a Hulu Plus Live TV subscription. It comes with 50 whole hours of Cloud DVR storage where your downloaded content stays safe and sound. Users can get more storage (up to 200 hours) via Enhanced Cloud DVR and record multiple movies at the same time.  
Conclusion
From one movie lover to another, we can say that our Hulu experience was better than we expected. Yes, the ads can be a total buzzkill; especially when you're watching a heated match on Hulu Plus Live TV.
Even so, the fact that you can stream cable television made Hulu stand out to us. If you liked our Hulu review, do pay this streaming service a visit. We can guarantee you'll get hooked on Ramy, or the Handmaid's Tale! All the best!
Website: https://www.hulu.com/
Disclaimer: IPTVAdviser.com does not verify the legality or security of any add-ons, apps or services mentioned on this site. Also, we do not promote, host or link to copyright-protected streams. We highly discourage piracy and strictly advise our readers to avoid it at all costs. Any mention of free streaming on our site is purely meant for copyright-free content that is available in the public domain.
Disclosure: IPTVAdviser.com is a reader-supported blog. When you buy a product(Hardware, device, accessories, or VPN, we're not affiliated with any IPTV service or app) through links on our site, we may earn a commission.