With cable TV massively losing its audience in the past few years, consumers are now drifting towards streaming platforms and IPTV services.
This article is purely educational. IPTVAdviser.com doesn't own, host, operate, resell, or distribute any streaming apps, addons, IPTV or services. The page contains some unverified services, and we are not certain whether they hold legal licenses to distribute the content. IPTVAdviser.com does not verify the legality of each app/service in all regions. Do your due diligence if you use any of the unverified apps/services, and stream only content that is available in the public domain. The end-user shall be solely responsible for the media accessed.
IPTVGEO is a top contender among streaming service providers across the world. But in a world full of such similar platforms, does IPTVGEO stand out to a customer?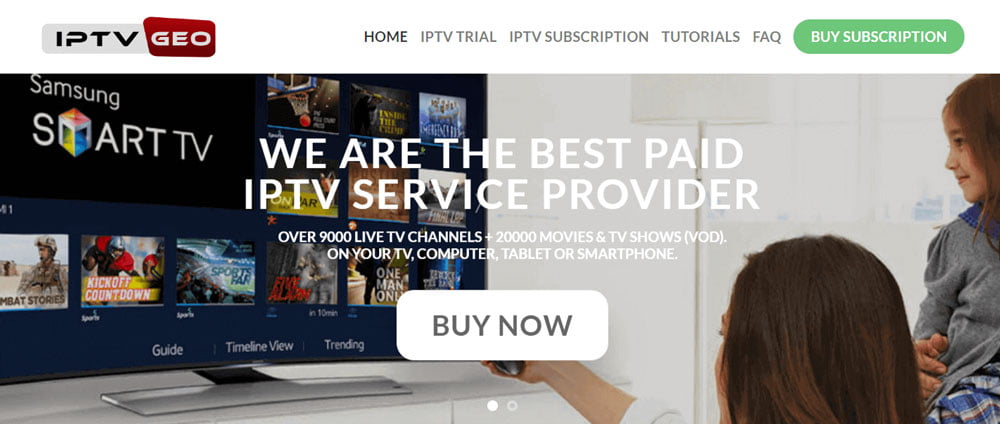 To help you make an organized decision, we are here with our thorough IPTVGEO review. We'll be giving you an overview of the platform, discuss all its impressive features, weigh its pros and cons, and answer some common questions from users. So without further ado, start reading!
IPTVGEO – Overview
Every IPTV service provider competes with the conventional broadcasting system in several areas. IPTVGEO ensures that its platform gains the upper hand by providing quality service and all-inclusive options. The company also relentlessly works to improve its facilities, keeping an equal pace with other competitors.
By providing access to innumerable channels, offering a variety of subscription offers, and ensuring compatibility with the most relevant devices, it has made streaming easier for all its users. Besides, the price proposals are also quite lucrative if you compare what you're getting in exchange.
While it may be difficult to keep up with up-and-coming platforms providing similar services, IPTVGEO is doing its best to stay reliable for its customers. Owing to this commitment, it has already made a strong place among service providers.
IPTVGEO – Features & Details
Almost all IPTV platforms have some similar benefits. So what sets IPTVGEO apart from everyone else? Well, take a look at the key features that make the service provider so remarkable.
All-Encompassing Library
IPTVGEO distributes more than 9,000 channels on its platform. Other than regular channels, the users will also gain access to some exclusive channels. Since those channels are not available elsewhere, they hold an extra value of interest to the users.
Besides, there are beyond 20,000 movies and television productions available. From sports to movies to series, you are bound to find something of interest. The best part? These are all distributed in the VOD (Video on Demand) format, saving you the hassle of arranging a separate video playing device.
Wide-Ranging Device Compatibility
No matter which device you're using, you are likely to find it compatible with this provider. It is compatible with Android, iPad, iPhone, Mac OS X, Samsung SMART TV, LG Smart TV, Microsoft Windows, MAG 250, Enigma 2, Dreamlink, etc.
Nowadays, different devices, irrespective of their manufacturers, can be paired together. If you want to enjoy streaming services on separate devices for your convenience, you can easily do that.
Subscription Package & Pricing
There are 6 types of subscription offers available in IPTVGEO. Apart from five different time-based subscription offers ranging from 1 month to 2 years, there is also a trial offer for an entire day.
The trial offer is completely free. But unlike other platforms where access to many features is restricted during free trials, you will be able to enjoy all regular and premium features here.
In fact, there is no feature-based discrimination in any level of subscription. Only the time duration and price vary. Furthermore, the prices are quite reasonable.
Content Quality
When thousands of different contents are being distributed by an equally broad channel base, questions may arise about their quality. However, as a probable customer, this is a worry you should completely abandon.
Here, you will be able to enjoy content with almost no buffering. Besides, their AntiFreeze Technology also prevents the videos from freezing.
A factor to be considered is that you must have a stable internet connection to enjoy videos properly. In some cases, the quality of content may deteriorate due to poor connection.
Direct Service from the Internet
Another great feature is the direct provision of services from the internet. Because of this feature, you won't need any of the requisites of a traditional television system. This includes a separate device, cables, broadcasting transmitters, etc. You can enjoy your shows in a completely cable-free system.
User-Friendly Refund Policy
A 3-day refund policy is adopted by IPTVGEO. Other than the free trial subscription, you can avail of a refund for any of the other options.
One downside of getting a refund is that you won't be able to subscribe to them again. But this is done to protect the integrity of their services and to avoid scammers. Many platforms don't even provide a refund policy. Compared to those, this is definitely more convenient for users.
Frequently Asked Questions
What is IPTV used for?
IPTV is used to provide safe and authentic content (shows, music, VOD, live streams, etc.) via your IP networks. It is an alternative method of providing television content, without the cable system.
How to fix the buffering of videos?
It is most likely that you are experiencing buffering due to a poor internet connection. Contact your internet provider and try to fix your connection.
Can you use multiple devices with IPTVGEO?
Yes, you can use multiple devices with IPTVGEO. For your own convenience, it would be best to link those devices. Pairing devices will save you extra time and hassle.
Is there a trial session in IPTVGEO?
Yes, there is a 24-hour trial session in IPTVGEO. It is and completely free and non-refundable.
Does IPTVGEO offer a refund?
Other than its free trial session, IPTVGEO offers a refund for all its other subscriptions. Your money is guaranteed to be refunded within 3 days.
Conclusion
Comparing all the benefits and drawbacks from our IPTVGEO review, we've concluded that IPTVGEO is a platform worth spending your money on. Through device compatibility, user-friendly features, and professional expertise, they have set a benchmark for all other streaming service providers. So if you want to enjoy different genres of content without compromising on quality, consider subscribing to them.
Website: https://iptvgeo.com/
Disclaimer: IPTVAdviser.com does not verify the legality or security of any add-ons, apps or services mentioned on this site. Also, we do not promote, host or link to copyright-protected streams. We highly discourage piracy and strictly advise our readers to avoid it at all costs. Any mention of free streaming on our site is purely meant for copyright-free content that is available in the public domain.
Disclosure: IPTVAdviser.com is a reader-supported blog. When you buy a product(Hardware, device, accessories, or VPN, we're not affiliated with any IPTV service or app) through links on our site, we may earn a commission.