There was a time when we couldn't imagine our life without MySpace. And now we have Instagram! Yes, there will always be the brand-new hottest thing that will replace the irreplaceable.
Some people out there are still into traditional TV channels, but the smartest ones are going for IPTV. It is the trend, the talk of the town!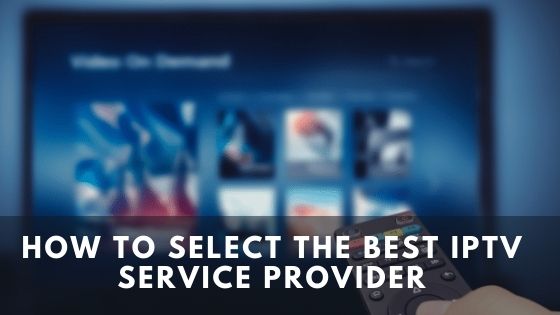 However, when something becomes popular, there will be tons of varieties. And all of them aren't really worthy of your hard-earned money! So, the question is, how to select the best IPTV provider?
Well, that's what we will discuss here today!
How to select the best IPTV service provider – Everything you need to know
As you will get tons of options these days, picking the best IPTV provider will be a hectic task. But don't worry, here I will tell you about some factors that will determine if the service is good enough for you or not.
Once you go through this guide I've prepared, nothing can stop you from picking the most amazing IPTV services; that's a promise!
Location
What's the point of ordering mozzarella sticks if you are lactose intolerant? The same thing goes for your IPTV service provider!
The first thing you need to consider is the location of your IPTV provider. Is their service available in your region? If not, there's no point in getting that, no matter how lucrative their offer is.
Hence, always choose a provider that will give you service in your locality. And if you have any place in your mind where you want to spend a summer or start a new life, make sure your IPTV service is available there too!
Furthermore, you should also think about where your IPTV service provider is located. Some of you may think it's not necessary at all! But it actually is. Let me explain.
Suppose your provider is located in the UK and you live in the USA. As you two live in different time zones, your showtimes aren't going to match!
Therefore, always go for the IPTV providers that are available in your territory. Otherwise, you will not get proper services and will miss the finale of The Bachelor, and you don't want that!
Device Compatibility
Just like any other thing, from a relationship to an app, compatibility is important while picking IPTV services! If it isn't compatible with your device, you can't watch a single thing.
You will stream your content using your Android TV box, but the other members of your house may want to watch a movie privately on their laptops. But what if the service provider doesn't allow you to do that?
Therefore, make sure the IPTV provider offers you the ease of streaming your content on different devices. Otherwise, you will never be able to enjoy any content on your phone and smart TV. Well, that's a bummer!
Channels
Yes, you love lasagna, but you can't have that every day, can you? Hopefully, you know the answer!
So, when you are choosing an IPTV provider, don't forget to go through their channel list. Every IPTV service doesn't offer all the channels. And that's a bit disappointing.
Hence, check the channel list and see if the package has all your channels so you can watch all your favorite shows. Moreover, if you have plenty of members in your house, ask for their preference too!
Well, the best IPTV provider will let you customize your channels within your budget. So, select a company that will give you that liberty.
User Experience
Before choosing a product, from detergent to smart TV, we go through thousands of customer's feedbacks to discover every perk and con. So, when it comes to picking the best IPTV service provider, we need to do the same.
Different service providers will come up with exciting packages and tons of channel options. But you will get to learn about reliability when you discover what their customers have to say about them.
Therefore, before spending your money, ask your friends for references and go through online threads to see what people say about different providers. If you keep doing so, you will figure out the most amazing IPTV provider, and then you can invest your money without any hesitation.
Content Quality and Buffering Issues
There's nothing more annoying than watching low-resolution content on a high-performance device. Thus, if you want to enjoy high-resolution videos, make sure your IPTV provider is capable enough to offer that!
Furthermore, sometimes buffering problems can ruin your whole experience. Imagine you are watching super bowls with your friends, and the screen is loading all the time. You don't want that annoyance in your life, do you?
However, the streaming quality of the IPTV contents depends mostly on the internet speed. But the top-grade IPTV provider will tell you which bandwidth will ensure the highest streaming quality so that you can select your internet connection according to that!
Hence, before you buy the subscription, ask the company to recommend some internet service providers. In this way, you can watch anything on live TV without disturbance.
Cost
There will be tons of packages offered by your IPTV service provider, and you can select whatever comes within your budget. Some people may think that the best IPTV provider will have an expensive price tag compared to cable TV. Well, that's somehow true!
Yes, most IPTV service providers will offer you affordable packages, but they may not contain your favorite channels. Moreover, the number of add-ons and customer service won't be up to the mark.
Therefore, if you are on a tight budget, just browse more options and get something that works for you the most. And trust me, there is plenty of fish out there, so getting the best IPTV providers won't be an issue!
What services will I get from the IPTV providers?
The number and quality of services depend on the provider to the provider. However, here are some common benefits offered by most IPTV providers.
Live Television
Thanks to IPTV, you can enjoy all the exciting shows that are currently aired worldwide. If you were avoiding your favorite channels because they were too expensive for you, IPTV could be your best solution!
TV on Demand
This is probably the most amazing thing about this service, I must say! The best IPTV providers will allow you to pick channels according to your preference. If you want CW, you can keep it. And if you don't love those shows, just pick ESPN or anything else; the choice is yours!
Video on Demand
Are you craving to watch Gremlins but don't have any DVDs? Well, the best IPTV provider will have a vast collection of movies and shows in their media library, and you can watch them whenever you want. How amazing is that?
Are IPTV service providers illegal?
I really don't know why people think that IPTV is illegal! However, you don't have to worry about anything because IPTV is totally legal, and nothing will happen if you get a subscription.
But some IPTV resellers get their hands on these services without a proper license. In that case, the service will be illegal. Well, even then, you won't be responsible for anything because it's the provider's fault.
Do IPTV services require VPN?
Another misconception is that IPTV won't run without a VPN, which is just a tall tale. Yes, you can stream thousands of content on your smart TV after getting an IPTV subscription. But if you use a VPN, you will unlock the IPTV service's worldwide channels. After that, you can say goodbye to geographical restrictions!
Furthermore, VPN helps you get faster speed with any internet connection, which is just the cherry on the top. So, to have greater benefits, you can get VPN, but that's not a must-have.
Conclusion
Finally, I'm done telling you how to select the best IPTV service provider. Once you go through this guide, you'll never have to look back, so consider it as your Holy Grail!
However, while taking the subscription, make a list of your preferences and go with the one that checks most of the boxes. And always try to pick a service that offers trial periods. In this way, you can figure out the most suitable one without any investment.
Disclaimer: IPTVAdviser.com does not verify the legality or security of any add-ons, apps or services mentioned on this site. Also, we do not promote, host or link to copyright-protected streams. We highly discourage piracy and strictly advise our readers to avoid it at all costs. Any mention of free streaming on our site is purely meant for copyright-free content that is available in the public domain.
Disclosure: IPTVAdviser.com is a reader-supported blog. When you buy a product(Hardware, device, accessories, or VPN, we're not affiliated with any IPTV service or app) through links on our site, we may earn a commission.