This guiding article will help you install GSE SMART IPTV on a firestick or any other Fire TV device without any extra hassle. Here we will provide you with brief and detailed instructions to install GSE Smart IPTV on your devices like Android TV, Smart Android TV, Android Mobiles & Tablets, and iOS (iPhone, iPad, iPod, Apple TV) single-handed.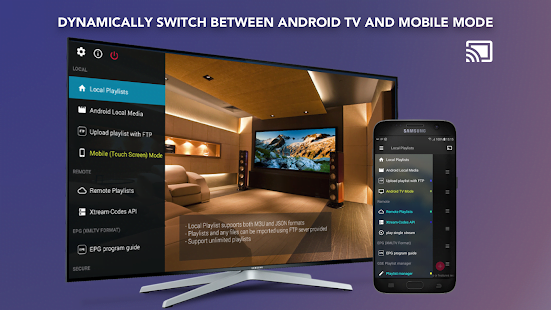 This idea of GSE SMART IPTV is brand new, and not so many people are known about this service. This IPTV service facilitates you by importing channel playlists and EPG URLs from your IPTV service providers. Moreover, this GSE Smart IPTV claims to be a user-friendly, easy to set-up, advanced IPTV Solution for use. Many people think that is an IPTV service provider, but the idea is wrong.
How to Install GSE SMART IPTV on Amazon FireStick?
A few days ago, IPTV was a newly introduced service, but now GSE Smart IPTV is officially available on Play Store for Android devices and Apple App Store for iOS devices. But this service isn't available for Amazon devices. For your FireStick device, GSE Smart IPTV filelinked need to be sideloaded. And unfortunately, you won't find the GSE Smart IPTV app on the Amazon store.
Whenever you need to fetch any external or third-party app onto FireStick, you must make sure you have enabled permission to accept apps from Unknown Sources. You must follow these steps for the installation procedure:
STEP 1:The first step you need to do while starting the installation process is installing the downloader app that is available in Amazon Store. The downloader app will help you fetch the GSE Smart IPTV app for your FireStick.
STEP 2: You will then see a search bar in the top-left corner of the device's home screen; now, type "Downloader" you will get Downloader app: now, download and install the app.
STEP 3: After you've successfully downloaded and installed the Downloader app, tap to open the app. After opening, a couple of prompts should appear on the screen. You need to skip them by selecting the appropriate onscreen options.
STEP 4: There's a textbox containing the URL on the right side of the homepage, and you should click on it.
STEP 5: Now you put the following link: https://www.gsesmartiptv.com using your onscreen keyboard and click 'GO.'
STEP 6: Then you will be redirected to the Downloader app's browser section, where a web page will load up. After that, you just scroll down a little below and click where you see "Download for Amazon Devices".
STEP 7: When you click on it, it will automatically connect to the online file location and then start downloading the GSE Tech Smart IPTV APK on FireStick. And it doesn't take more than a minute to finish its job.
STEP 8: When you see the download procedure has been completed, click the install button over the screen. After waiting a minute, you will see an 'App installed' notification, which means that the app has been installed.
STEP 9: After successfully installing the app on your Firestick, you need to go back to the downloader app to delete the APK file. Deleting the GSE tech Smart IPTV APK will keep your limited FireStick storage clean.
How to Install GSE SMART IPTV on Android?
Following just 4 Simple Steps, you are done installing the GSE Tech Smart IPTV for Android. Once you have downloaded and installed it, you are ready to use the GSE SMART IPTV on your Android device.
STEP 1: You can download the APK from the following downloading mirror: https://get.baixarapk.gratis/en/app/1028734023/gse-smart-iptv.
STEP 2: Now, to start the installing process of the GSE SMART IPTV apk, you need to make sure that third-party apps are currently working as an installation source.
STEP 3: For proceeding to the installation procedure, you need to go to Menu > Settings > Security > and check Unknown Sources to install apps from sources rather than the Google Play Store.
STEP 4:Then you have to locate where you have downloaded the APK file. Once you are done locating the GSE SMART IPTV apk file on your android device, click on the file, and the normal installation process will begin.
STEP 5:Tap on "Yes" or "Allow" when prompted for any permission or anything. Moreover, you need to read all the rules and regulations before installing the app on your device.
Now GSE SMART IPTV is installed on your android device, and that's it, enjoy watching.
How to Install GSE SMART IPTV on iOS?
You have to follow the steps given below to install GSE Smart IPTV on your iOS devices. Here the simplest steps are given with every little detail.
STEP 1: Firstly, you have to open the App Store on your iOS device and search for "GSE SMART IPTV'. Then an app will come on the screen. Tap on the download button under it. Wait a couple of minutes until the downloading procedure has been completed.
STEP 2: After the download has been completed, open the file and accept all the agreements and policies that they're asking for.
You're already with an installed GSE SMART IPTV on your iOS device and enjoy watching.
Features and Benefits of GSE SMART IPTV
You'll find the GSE Smart IPTV as an IPTV management tool.
You must have an IPTV subscription from the provider to use GSE tech smart IPTV for firestick.
There's an option in the GSE SMART IPTV pro Web interface to import your playlists from multiple subscriptions.
The users also can use the Xtream Codes API.
The users are also allowed to import EPG program guides.
You'll also find the facility to play your local media from the storage.
It has developed apps for almost every operating system and a device like Amazon FireStick, Android TVs, and Smart TVs, Android, and iOS devices.
With a paid version of GSE Smart IPTV pro apk, you can unlock and get all the features out of it.
GSE Smart IPTV is also available to use for windows and GSE Smart IPTV pro mac for macbook.
Frequently asked questions (FAQs)
Is GSE SMART IPTV legal?
Generally, all online-only TV providers are legal. All of the channels from their respective source are entirely licensed. All the apps that have been used to run IPTV on devices are also entirely legal.
Is GSE SMART IPTV free?
Nowadays, the most popular media to enjoy IPTV is with a media streaming device such as the Amazon Fire TV Stick 4K, Android, or iOS devices. Using a jailbroken Firestick, users can easily download and install an IPTV app for live streaming, Movies, TV Shows, Music, and more. And all of the services they provide are absolutely free of cost.
How do I add EPG to GSE IPTV?
To add EPG to GSE IPTV, you have to tap on the 3 lines at the top left corner and click on "EPG program guide." There's a plus sign on the top right corner that you need to click. After that, select "Add Remote EPG source." Add the EPG source link address provided by your distributor and click "Add."
How do I download GSE SMART IPTV on Apple TV?
Firstly, download and install GSE SMART IPTV on your Apple TV. When the installation is finished, open it to launch the app on your device. Then, click on the "Add playlist" button and "Remote Playlist" button simultaneously. And the service provider will provide the M3U Playlist URL and EPG URL that you should connect.
Do I need to pay for using GSE SMART IPTV?
You can get so many GSE SMART IPTV pro packs unlocked available on the internet. All the apps for using that IPTV available completely free on the google play store or App Store. You can download, install, and enjoy GSE SMART IPTV free of charge.
Does GSE SMART IPTV Support Xtream Codes API?
Numerous illegal IPTV providers widely use Xtream Codes. Xtream Codes is basically a Content Management System that basically takes the streaming data from the IPTV service providers and changes the format into M3U. Those URLs can be sent to their clients with their own personal ID.
How reliable is GSE SMART IPTV app?
GSE SMART IPTV is quite safe and reliable to use, but users have to use it with caution. Moreover, natural language processing analysis (NLP) decides how safe and reliable it is to use an app. The users' reviews for this app from the App Store are promising.
Conclusion
Undoubtedly, you'll enjoy multiple IPTV subscriptions through GSE SMART IPTV. M3U & JSON playlists, EPG URLs, and Xtream Codes support the IPTV app. Before that, the GSE SMART IPTV apk is free, but it also has a paid version available that unlocks all its features.
GSE SMART IPTV PRO apk is a paid version by which the users can use all of its features and benefits. But you can also find this free version as user friendly. The experience of GSE Smart IPTV doesn't vary that much from device to device.
And the installation process isn't critical from device to device. If you guys ever face any sort of unexpected problem while installing the application, we will suggest you go through youtube or visit GSE Smart IPTV's website.
Disclaimer: IPTVAdviser.com does not verify the legality or security of any add-ons, apps or services mentioned on this site. Also, we do not promote, host or link to copyright-protected streams. We highly discourage piracy and strictly advise our readers to avoid it at all costs. Any mention of free streaming on our site is purely meant for copyright-free content that is available in the public domain.
Disclosure: IPTVAdviser.com is a reader-supported blog. When you buy a product(Hardware, device, accessories, or VPN, we're not affiliated with any IPTV service or app) through links on our site, we may earn a commission.